This is the second time USF's business development arm has been recognized by the Tampa Bay Technology Forum
TAMPA, Fla. – USF CONNECT has been named a finalist in the 10th annual Industry Achievement Awards competition by the Tampa Bay Technology Forum. The University of South Florida business development organization is a contender for the Excellence in Service award for the second year in a row. Finalists will be honored at a black-tie gala at the Hilton Tampa Downtown hotel on Oct. 18, 2013.
Tampa Bay Technology Forum (TBTF), a membership organization comprised of nearly 300 Tampa area technology companies, presents the annual awards to recognize individuals and organizations that are leaders in the Tampa Bay technology community. The organization was founded 11 years ago to provide programs and events to advance industry and promote job growth in the Tampa Bay region and Florida.
USF CONNECT focuses on the needs of Tampa Bay's technology and bio/life sciences entrepreneurs throughout the business life cycle, providing the facilities, partners and resources to support business development. Among other services, USF CONNECT offers access to technologies, workforce programs, technology commercialization, critical research equipment, incubator facilities, and expert mentoring to its member businesses.
USF CONNECT, which is part of USF Research & Innovation through the USF Research Foundation, reaches businesses throughout a 23-county region. The organization is led by Wendy Plant and Chris Prinzel, who took over following the departure of Tracey Swartz. Swartz is pursuing a PhD at the University of South Carolina.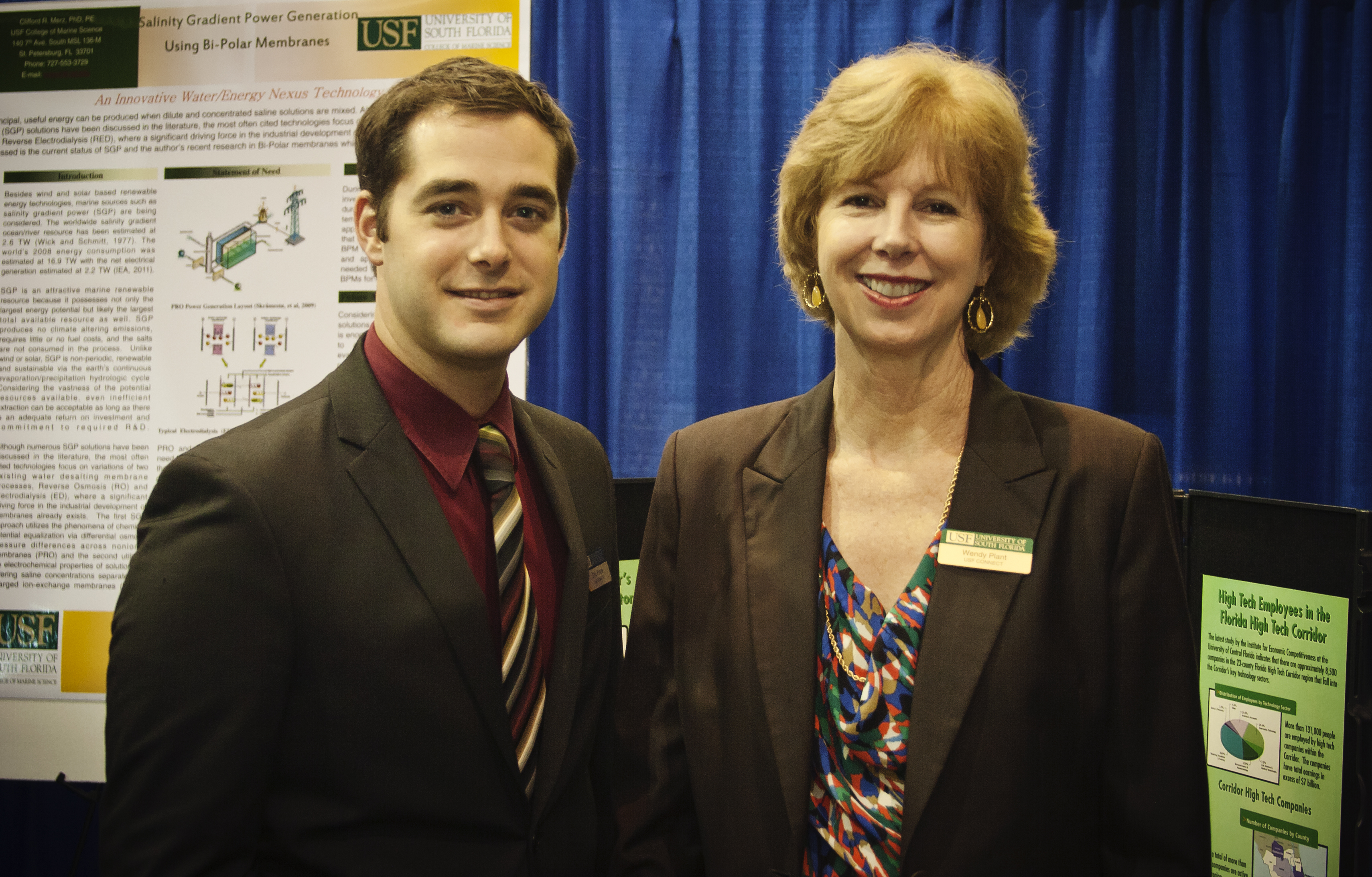 Chris Prinzel and Wendy Plant (Photo: Christeene Brinkley)
Plant oversees the university's Tampa Bay Technology Incubator program, working with the incubator clients and managing the educational and outreach efforts. She holds an MBA, a Certificate in Incubator Management from the National Business Incubation Association, and has significant experience working in business incubators. Prinzel oversees the university's collaboration with the Florida High Tech Corridor Council, including its successful matching grants program. He has a background in marketing and is currently pursuing an MBA at USF.
"USF CONNECT is a key part of how the University of South Florida is working to facilitate economic development and create jobs in Tampa Bay," said Paul Sanberg, USF senior vice president for Research & Innovation and president of the USF Research Foundation. "We are proud and honored to again receive this recognition for Excellence in Service on behalf of our partners, board, mentors, advisors, and our dedicated staff, who are all committed to the growth and success of our companies and our community."