News - USF Research & Innovation
Research & Innovation
»
News
Research administrators from the University of South Florida recognized
December 4, 2013
106 USF employees earned certification in research administration this year
TAMPA, Fla. – The University of South Florida honored 106 newly designated TRAIN® Certified Research Administrators at the annual TRAIN® Award Luncheon, held today on the university's Tampa campus.
The TRAIN® Certified Research Administrator (TCRA) designation is awarded to employees who successfully complete an extensive curriculum of instructor-led classes and online training modules. The Research Administration Improvement Network (TRAIN®) serves as the central hub for all USF sponsored research training.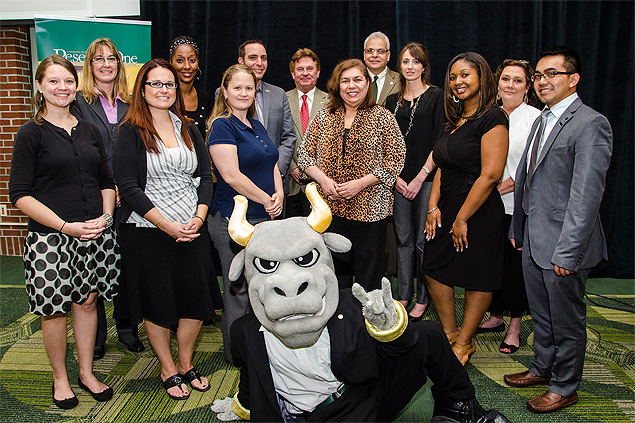 New TCRAs from the College of Engineering (Photo: Aimee Blodgett, USF News).
"TCRA certification demonstrates an exceptional level of commitment to excellence in research administration at USF," said Paul R. Sanberg, Ph.D., USF senior vice president for Research & Innovation. "It strengthens employees' credentials and increases their credibility in the field of research administration."
In addition to being recognized as a new TCRA, Britney Edwards was honored as the recipient of this year's TRAIN® Award. Edwards, a research administrator in the College of Engineering, joined USF in 2012. She was nominated by her peers and selected by the TRAIN® Award Selection Committee. Edwards received the award in recognition of her exceptional contributions to the TRAIN® initiative in 2013, outstanding team participation in the development and implementation of the TCRA program, and high standards and excellence in research administration at USF.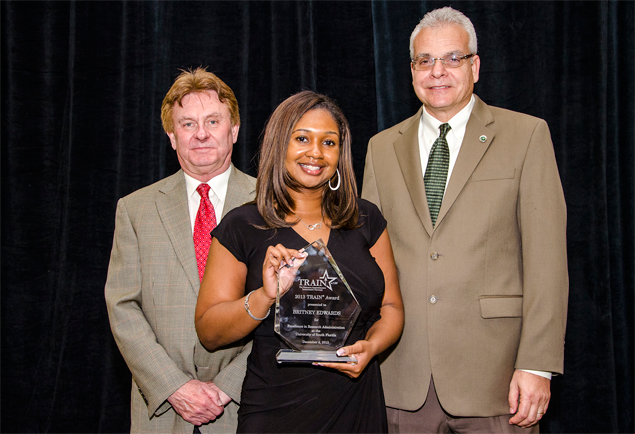 Britney Edwards receives the 2013 TRAIN Award from Dr. Dwayne Smith and Dr. Paul Sanberg (Photo: Aimee Blodgett, USF News).
The 44 research administrators who serve as TRAIN® Associates were also recognized at the awards luncheon. TRAIN® Associates, who volunteer their time as subject matter experts, serve as in-class resources to participants attending TCRA courses, and co-presenters of courses with other TRAIN® Associates from USF Research & Innovation and USF colleges and departments.
The following people received TCRA certification in 2013:
Academic Support Services
Dr. Rhonda Moraca
Sarah Smith
College of Arts and Sciences
Jennifer Briggs
Mildred Cummings
Deborah Gee
Samantha Haylock
Mai Huynh
Ryan Jahn
Sandra Justice
Mary Parrish
Irina Ramirez-Fuentes
Kimberly Read
Megan Suhr
Edgardo Valentin
Lynn Wilkinson

College of Behavioral & Community Sciences
Nancy Bangston
Deedra Gibson
Maricel Hernandez
Sonya Jones
Julie Kuhn
Karen Mann
Elida Porro
Janet Reyes
Katherine Ringo

College of Business
Kristene Manning
College of Education
Juliette Baron-Decae
Chennetta Kernodle
Todd Boyd
Michelle Phillips
Dr. Janice Sullivan
Arlene Swartz
Virginia Thor
Elizabeth Womack
College of Engineering
Demeda Allen
Brett Annette
Lorraine Barnett
Khoa Dinh
Kelly Douglass
Britney Edwards
Kristin Larsson
Julie McCoy
Amber Moore
Norma Paz
Melodie Ranisavljevic
Diana Rogers
Shannon Salvog
Cindy Vallaro
College of Marine Science
Nancy Holloway
Betty Rahn
Anita Thompson
College of Nursing
Cathryn Branch
Sue Girling
Susan Johanson
Brandi Mallek
Janice Walker
College of Pharmacy
Monica Batistapau
Kymia Love Jackson
College of Public Health
Megan Ditizio
William Donahue
Christopher Gillotte
Alma Hurd
Anne Marie Little
College of The Arts
Marydalia Daley
Morsani College of Medicine
Erin Bhagvat
Emma Gonzalez
Nichole Keaton
Susan Lukas
Inger Mills
Jo Ann Moore
Donna Morrison
Jocelyn Paz
Donna (Lady) Washington
University Audit & Compliance
Jessica An
University Communications & Marketing
Noelella (Terri) Shaw
University Controller's Office
David Doyle
Karen Haubenstock
USF Health Byrd Alzheimer's Institute
Tricia Ramgoolie
USF Health PaperFree Florida
Kenyatta Daniel
USF Research & Innovation
Laura Beagles
John Cannon
Sherri Cloer
Sharon Corlett
Desiree Cuesta
Jaime Davis
Daniel Diaz
Judi Dorn
Benika Forte
Elizabeth Foster
Lew-Anne Gordon
Chanda Haywood
John Heatley
Annalisa Heig
Anesia Kelly
Shane Linkous
C. Kris Mathews
Heather Morr
Laura Pape
Nina Pemberton
Stephanie Rios
Reginald G. Robinson
David Smith
Janice Vega
Corinne Walters
Jian Wang
Michelle Webster
USF World
Laurel Thomas
Share:
Research & Innovation
Newsletter
---