Award recognizes USF faculty with exceptional achievements in innovation and translational research
By Katie Vasenina and Lindsay Ortega
USF Research News
TAMPA, Fla. – Five faculty members from the University of South Florida have been awarded the Excellence in Innovation Award for their exception achievements in innovation and translational research. The award includes a plaque and $2,000 to each recipient.
President Judy Genshaft and Senior Vice President for Research and Innovation Paul R. Sanberg presented the awards at the National Academy of Inventors fifth annual luncheon held on Oct. 21, 2013 at the University of South Florida.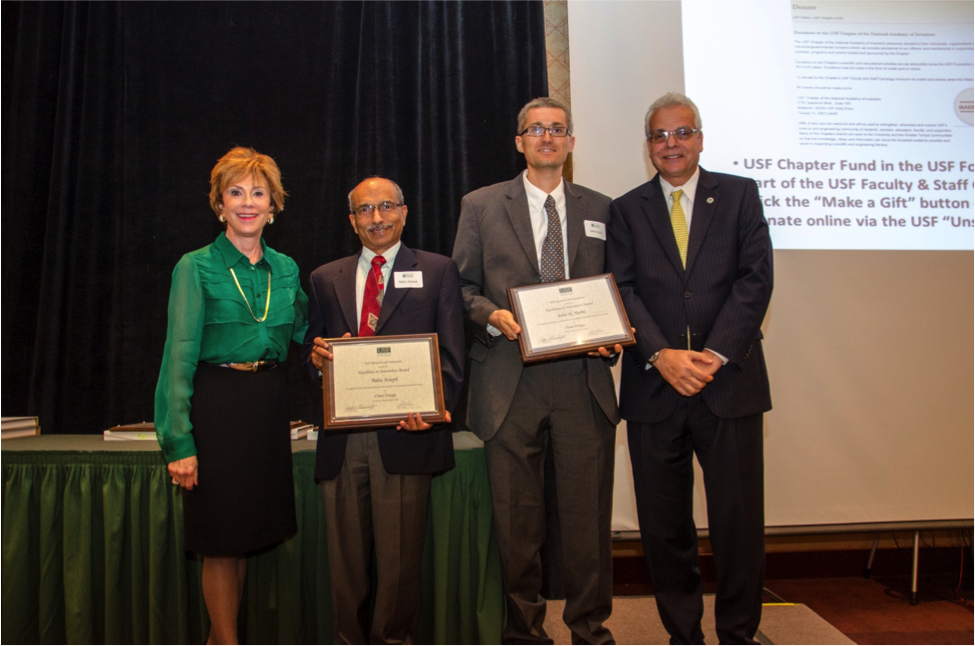 Judy Genshaft, Babu Joseph, John Kuhn, and Paul Sanberg (Photo: Aimee Blodgett).
Dr. Babu Joseph and Dr. John N. Kuhn from the Department of Chemical and Biomedical Engineering were recognized for their innovative work in the field of clean energy. Together, they have had tremendous success in translating their research for commercial application. They have developed the USF start-up company, Trash 2 Cash Energy, to commercialize their inventions in the area of liquid fuels production from landfill gases.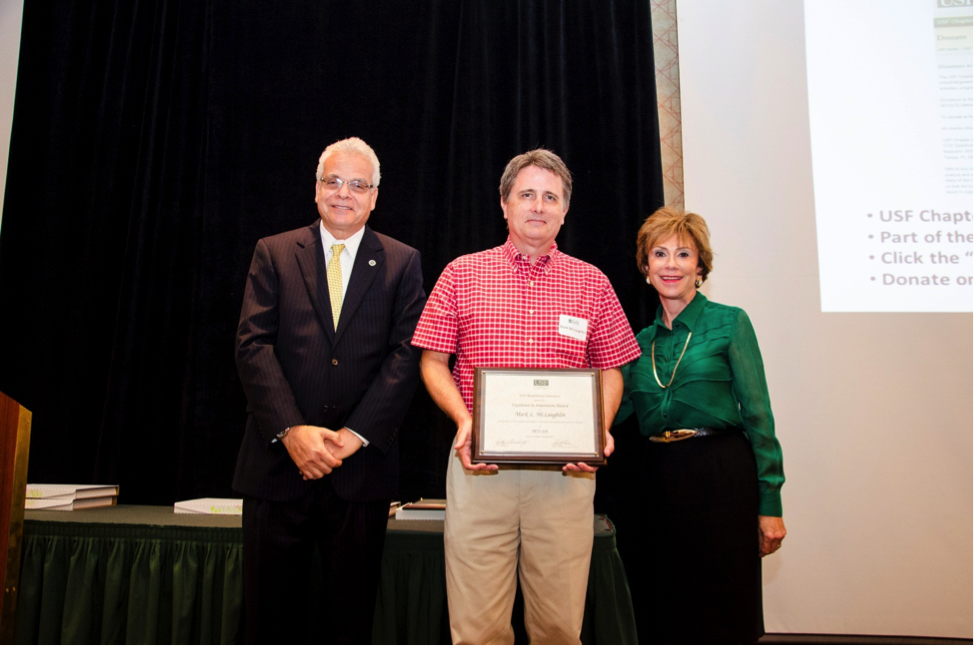 Mark McLaughlin receives his award (Photo: Aimee Blodgett).
Dr. Mark L. McLaughlin, professor of Chemistry at USF, has a joint appointment as professor of Interdisciplinary Oncology at Moffitt Cancer Center in addition to being Executive Vice President and Treasurer of Modulation Therapeutics, Inc. McLaughlin received the Excellence in Innovation Award for his innovative work in the development of MTI-101, a second generation anti-cancer drug used in the treatment of multiple myeloma. He has over 100 peer-reviewed publications in chemistry and its applications to human disease and cancer, and has received funding from the National Institute of Health and National Science Foundation.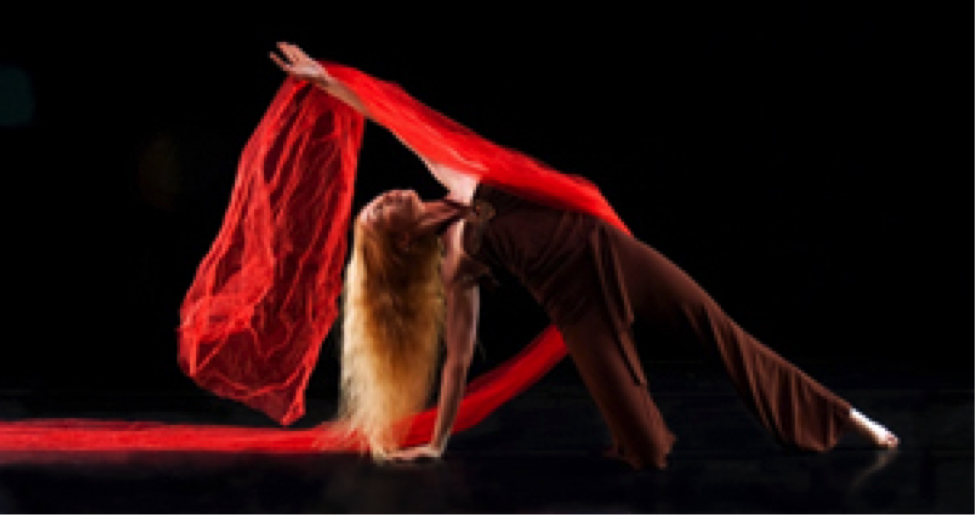 Merry Lynn Morris (Photo: USF College of The Arts).
Ms. Merry Lynn Morris is an Instructor in the School of Theatre and Dance and received the Excellence in Innovation award for her innovative work leading to the development of the Rolling Dance Chair. Her wheelchair addresses the performance needs for differently-abled dancers and re-imagines mobility through the lens of dance. Her technological achievements are being recognized for a truly innovative approach to mobility and the far-reaching benefits of this invention both within and beyond the field of dance.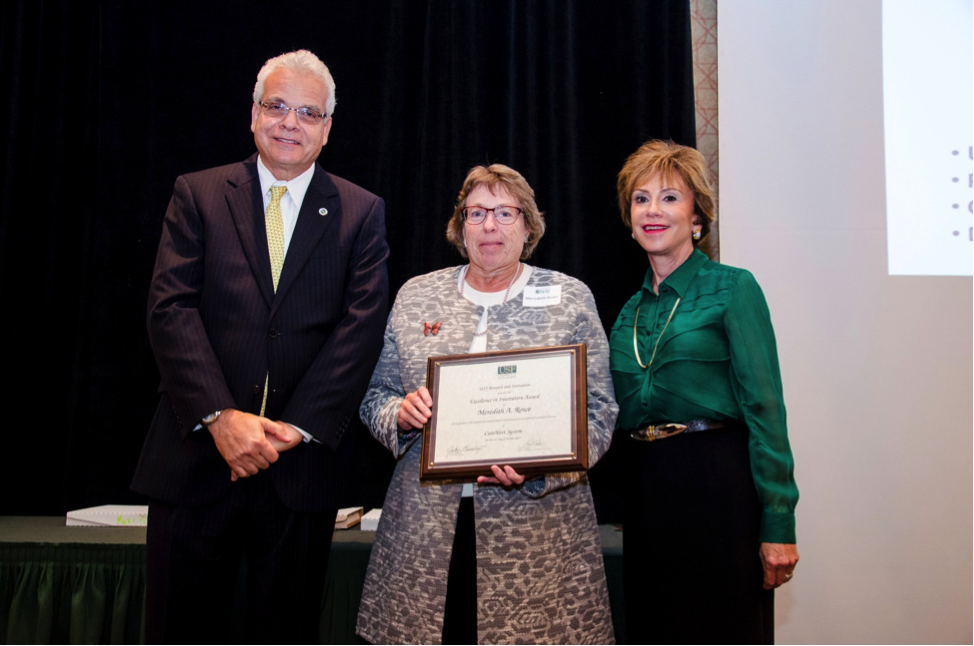 Meredeth Rowe receives her award (Photo: Aimee Blodgett).
Dr. Meredeth A. Rowe, Professor and Endowed Chair of Nursing received the Excellence in Innovation Award for her innovative work in the development of the CareAlert System, an integrated home-monitoring system that assists caretakers of dementia sufferers. The CareAlert System uses a system of bed sensors, motion sensors, and door-opening sensors to keep track of the whereabouts of a person with dementia and reduce the constant vigilance that is currently demanded of caregivers.
"The Excellence in Innovation Award recognizes exceptional achievement in technological innovation and its transfer to practice, industrial partnerships, and commercialization," said Sanberg. "Our goal is to encourage and reward the highest levels of technological innovation and entrepreneurial success. Our winners this year are outstanding examples of academic innovators who are making a real difference."