Trash2Cash-Energy, LLC received both finalist and sustainability awards
By Lauren Golin
USF Research News
TAMPA, Fla. – Trash2Cash-Energy LLC, a University of South Florida startup company, has been named as a finalist at the 2013 Southeast Region Finals of the Cleantech Open, the world's largest accelerator for clean technology companies.
According to Cleantech, the five finalist companies were selected from among 20 companies founded by cleantech entrepreneurs who entered the Southeast regional accelerator of the Cleantech Open this year. Trash2Cash Energy was both named as a finalist and recognized with the Sustainability Award.
Trash2Cash has licensed from USF a proprietary gas-to-liquid process that converts naturally produced landfill gas to hydrocarbon fuels specific to their customers' need, such as gasoline, diesel, or aviation fuel. The company was founded in 2012 by USF Assistant Professor John Kuhn and Professor Babu Joseph, USF student Syed Gardezi, and recent USF graduates Timothy Roberge and Devin Walker.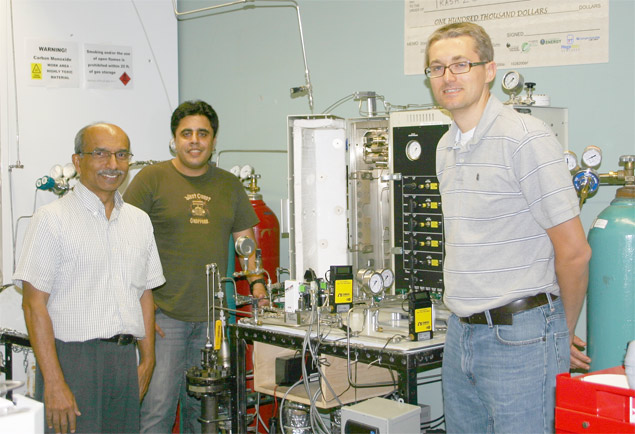 From left: Babu Joseph, Syed Gardezi and John Kuhn.
The company's gas-to-fuel technology, says Kuhn, is a revolutionary, patent pending process that not only provides a renewable source of energy but greatly reduces the amount of emissions produced by the landfills.
As a regional finalist, Trash2Cash will receive a "Startup in a Box" package that includes cash and donated services worth up to $20,000, and will compete next at the Cleantech Open Global Forum, Nov. 20-21, 2013, in San Jose, CA. The winner will receive a $200,000 award package and the title of 2013 Top Cleantech Entrepreneur.
The Cleantech Open is a nonprofit organization that fosters the most promising startups in clean technology fields through a nine-month program that includes education, relationship building and funding opportunities. The program encourages cleantech entrepreneurs from around the nation to compete for local recognition and for a part of the overall $1 million purse for the national winners.
"We saw the Cleantech Open as a network and investor-friendly opportunity," said Walker, who serves as the company's COO. "We are raising capital to fund a pilot unit, which will enable us to demonstrate the technology for customers in Florida."
Lauren Golin can be reached at lgolin@usf.edu.