By Lauren Golin
USF Research News
TAMPA, Fla. – Scientific League, LLC, announced the launch of a Kickstarter campaign to fund the next volume of their educational video series, the Superhero Training Network™ (STN). The STN is a unique, multimedia program designed to enhance elementary level STEM (science, technology, engineering and mathematics) education by merging fundamental STEM topics with the exciting world of Superheroes.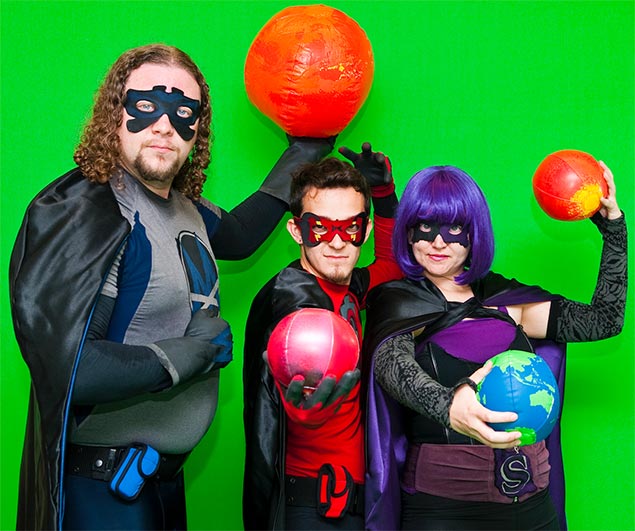 While USF doctoral students, Dr. Samuel DuPont and Dr. Audrey Buttice (and starring fellow student Robert Bair) created the STN using a fun and engaging superhero themed story line to capture student attention through a creative video and book series. The STN is currently used in 23 Hillsborough County schools and allows students to train alongside the Scientific League of Superheroes and learn important topics in science, technology, engineering and mathematics.
"We created the STN as a way to empower students and make them feel like they can be successful in what can be perceived as difficult career paths," said DuPont. "By creating a fun learning environment for students, we hope to encourage the scientists and inventors of the future."
The Kickstarter campaign was created in order to help complete 12 video episodes that will be offered in 4 DVD volumes. With the funding the company receives from the Kickstarter campaign, they are planning to print the Volume 2 training manual, and complete Volume 3 of the STN (both DVD and training manual).
To date over 2,000 students have experienced the STN, and the response has been overwhelmingly positive, according to DuPont. Those who contribute to the campaign will not only help bring exciting STN materials to additional homes and schools, but they will receive superhero themed rewards.
"This campaign is way to bring engaging, accurate, and memorable science materials into schools that teachers could use to open lines of discussion with their students," said Buttice. "We are very passionate about this project and wanted to build something that students would remember, something that would expand their imaginations and make them feel like they are a part of something bigger while teaching them the science and math they need to succeed."
Visit Scientific League, LLC Kickstarter campaign for more information.
Lauren Golin can be reached at lgolin@usf.edu.