New demands on universities go beyond research and teaching to basic research and technology transfer
TAMPA, Fla. – Should universities change their faculty tenure and promotion calculus based on research and publication to one that recognizes and includes faculty research activities that translate into patents, licensing and commercialization of products?
"Yes," say a group of university officials from across the nation whose paper "Changing the academic culture: Valuing patents and commercialization toward tenure and career advancement" is published in the current issue of The Proceedings of the National Academy of Sciences.
"Over the past several decades, university missions have expanded from teaching and research to include economic development and translating university-based research into real products that benefit society," says paper lead author Paul R. Sanberg, Distinguished University Professor and senior vice president for research and innovation at the University of South Florida (USF), and president of the National Academy of Inventors (NAI).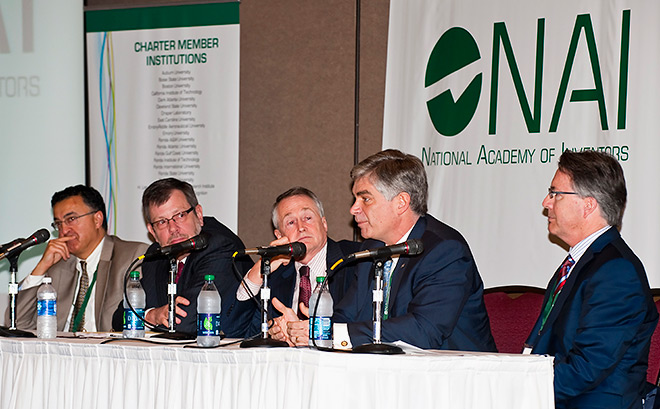 (from left) M. Gharib, Caltech; E. Kaler, U. of Minn.; R. Marchase, U. of Ala – Birmingham; P. Harker, U. Del; and T. Sands, Purdue University (Photo: Aimee Blodgett, USF News)
The authors—from USF, the California Institute of Technology, the University of Delaware, the University of Minnesota, The University of Alabama at Birmingham, Purdue University, and the University of Missouri St. Louis—say that, while research activities that translate to product commercialization should not replace traditional scholarly pursuits such as teaching, mentoring students and publishing research, patent and commercialization activities should be considered equally in decisions related to faculty tenure and academic advancement.
"There is a fundamental disconnect between technology transfer activities and incentives for faculty members in terms of merit raises, tenure and career advancement," says co-author Richard B. Marchase, vice president for Research and Economic Development at The University of Alabama at Birmingham. "Beyond the monetary benefit of licensing, which is small in most cases, there is presently little to no benefit to a faculty member's merit raises, tenure and career advancement."
For the authors, the "disconnect" can be lessened or eliminated by changing the university "rewards culture" to include placing value on a faculty member's patents and commercialization activities. If research, patents, licensing and commercialization are valuable to the institution, they should also be of value to the faculty member's academic career, they argue. "Of course, we understand these patent-related activities are available in all fields, and they should add to but not replace traditional measures of scholarly productivity," said Eric Kaler, president of the University of Minnesota.
To highlight the growing importance of university-based research to social impact, the authors cite a 2012 report from the National Research Council of the National Academies that suggests that since business and industry have "largely dismantled large corporate research laboratories that drove American industrial leadership," research universities must "fill the gap." A recent report from the American Association of University Professors similarly recommends that collaborations between industry and the academy "present tremendous opportunities for advancing knowledge and applying it to real-world problems."
To understand and place proper value on academic research and its potential beneficial outcomes for society and the university, the authors point to the success and impact of university-based "technology transfer," the process of transferring university-based scientific findings to another organization, such as a start-up company, for further development and commercialization.
Accordingly, the authors note that for universities, the patent, licensing and commercialization benefits of technology transfer include, along with the potential for license income and royalties and access to unrestricted funds for further institutional investment, increased opportunities for research funding, increased prestige for the institution, economic development, and public benefit, as well as helping the institution sustain high levels of scholarship and support student success.
"The greatness of a university should not be measured by its research grants and contracts alone," write the authors. "Greatness is also measured by how the university impacts and changes for the better the world and society-at-large."
Of relevance to this argument is the Bayh-Dole Act of 1980, which has offered universities and their academic researchers the opportunity to own their patents on technologies developed using federal funding. Prior to Bayh-Dole, the federal government owned patents on products developed using federal research dollars, yet failed to capitalize on them.
While Bayh-Dole created the potential for universities to profit from university-based discoveries, faculty members who patent, license and help commercialize products that come from their research efforts should reap a career benefit, say the authors.
"If promotion and tenure committees are measuring impact, they should value those accomplishments that best demonstrate impact," suggests co-author Patrick T. Harker, president of the University of Delaware. "That valuation will take us beyond the tabulation of commercialization and entrepreneurial activities to a point where licensed patents that produce royalties for the university will be highly valued."
Future efforts to encourage a culture change that recognizes the value of faculty patents, licensing and commercialization activities can be enhanced by developing advocates for commercialization. The work of the National Academy of Inventors, a non-profit organization founded to recognize, encourage, and enhance the visibility of academic technology and invention, provides an example of such advocacy.
"The NAI and its university members and Fellows throughout the United States play an important role by encouraging innovation and bringing attention to the devalued role patents currently play in tenure and career advancement," says Sanberg. The paper was based, in part, on a panel at the 2013 Annual Conference of the NAI entitled "Would Thomas Edison Receive Tenure?"
The authors suggest that universities would do well to encourage and support bright young faculty and trainees to build careers that combine research and scholarship—the traditional academic paths to tenure and academic advancement—with translating that research to the market through patents, licenses, and the commercialization of their ideas and products to benefit society.
"Universities that are active in finding resources to bring those ideas to reality are leading the way," said co-author Morteza Gharib, vice provost for research at the California Institute of Technology. "Recognizing the importance of patents and commercialization for tenure and promotion sends a powerful message to our faculty inventors, the academy, and the communities we serve."
Additional co-authors include Timothy D. Sands, executive vice president for academic affairs and provost of Purdue University, Nasser Arshadi, vice provost for research at the University of Missouri—St. Louis and Sudeep Sarkar, associate vice president for research and innovation at the University of South Florida.
###
The University of South Florida is a high-impact, global research university dedicated to student success. USF is a Top 50 research university among both public and private institutions nationwide in total research expenditures, according to the National Science Foundation. Serving nearly 48,000 students, the USF System has an annual budget of $1.5 billion and an annual economic impact of $4.4 billion. USF is a member of the American Athletic Conference and a Charter Member Institution of the National Academy of Inventors.
The National Academy of Inventors is a 501(c)(3) non-profit member organization comprised of U.S. and international universities, and governmental and non-profit research institutions, with over 3,000 individual inventor members and Fellows spanning more than 200 institutions, and growing rapidly. It was founded in 2010 to recognize and encourage inventors with patents issued from the U.S. Patent and Trademark Office, enhance the visibility of academic technology and innovation, encourage the disclosure of intellectual property, educate and mentor innovative students, and translate the inventions of its members to benefit society. The NAI offices are located in the University of South Florida Research Park. The NAI edits the multidisciplinary journal, Technology and Innovation – Proceedings of the National Academy of Inventors, published by Cognizant Communication Corporation (NY).
Media contact: Judy Lowry, jhlowry@usf.edu, 813-974-3181.
Media release by Florida Science Communications, Inc. www.sciencescribe.net