Bryanna Fox selected to receive one of ORAU's distinguished research awards
By Kate Taylor
USF Research News
TAMPA, Fla. – Bryanna Hahn Fox, assistant professor of criminology at the University of South Florida, has been awarded the Ralph E. Powe Junior Faculty Enhancement Award by Oak Ridge Associated Universities (ORAU). The $5,000 award will be matched with $5,000 from USF, for a total of $10,000 to help fund Fox's research. Fox was selected from 134 applicants for the award this year.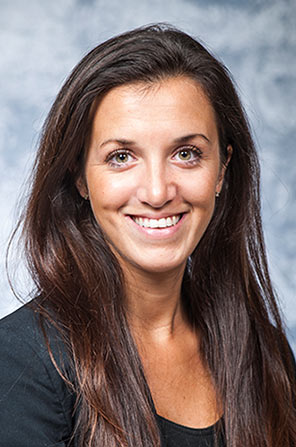 Dr. Bryanna Hahn Fox (Photo: Aimee Blodgett, USF News)
The Ralph E. Powe Junior Faculty Enhancement Award provides seed money for research by junior faculty at ORAU member institutions and is intended to enrich the research and professional growth of young faculty and result in new funding opportunities.
Fox, who joined USF in 2013, earned her Ph.D. in psychological criminology from the University of Cambridge. She has completed research in investigative psychology, offender profiling, policing, developmental and life-course criminology, and experimental field research.
As a graduate student at the University of Florida, Fox wanted to pursue research in profiling criminals based on psychological and developmental traits that would lead them to commit certain crimes.
"I was always interested in why people were bad. So, I was more into the criminal psychology area, trying to figure out what would make somebody do this and how can we prevent people from doing this," said Fox in an interview with USF-CBCS News.
She earned the award for her submission "Examining the Relationship between Adverse Childhood Experiences and Problematic Behavioral, Psychological, and Health Outcomes in Adulthood."
ORAU's award submission reviewers gave Fox high scores in all categories, stating that the research she was intending to do was "important" and "will add to scientific knowledge and evaluation between adverse childhood experiences and outcomes."
ORAU is a consortium of major Ph.D.-granting academic institutions and is headquartered in Oak Ridge, Tenn. It has over 100 member institutions, including USF, with a mission to advance scientific research and education. ORAU operates the Oak Ridge Institute for Science and Education (ORISE) under contract to the Department of Energy.
Kate Taylor can be reached at kptaylor@usf.edu