Tampa Bay Technology Incubator expands research base
By Christopher Prinzel
USF CONNECT
TAMPA, Fla. – The Tampa Bay Technology Incubator has strengthened its research presence in the biotechnology market by opening additional wet lab facilities in the USF Research Park at the University of South Florida in Tampa.
Randy Berridge, president of the Florida High Tech Corridor Council, Hillsborough County Commissioner Mark Sharpe and Lindsey Kimball from Hillsborough County Economic Development joined university officials, faculty, and student researchers at the ribbon cutting that officially opened the new lab on June 6.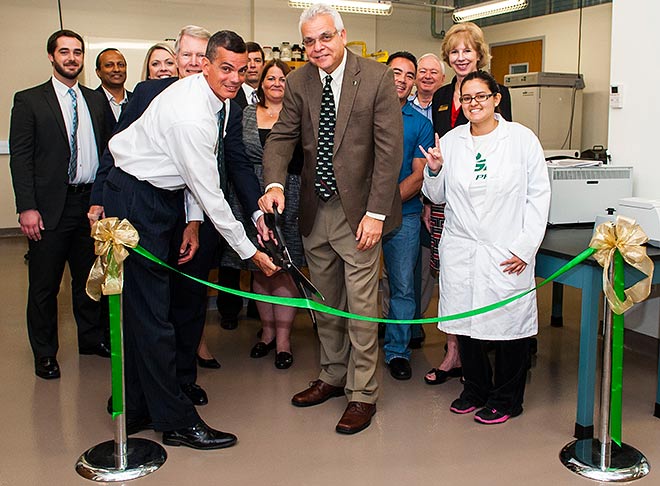 "We are excited about the opportunities that these labs will provide our clients to further their important research using the latest scientific equipment," said Wendy Plant, program manager for the Tampa Bay Technology Incubator.
The expansion includes four wet labs equipped with fume hoods, de-ionized water and flammable storage cabinets. The labs have adjoining private offices, with floor-to-ceiling windows, which are available for rent, according to Plant. The offices have floor-to-ceiling windows. The individual spaces are located on the first floor of USF's Interdisciplinary Research Building among laboratories staffed with university researchers.
USF CONNECT, USF's economic development arm, also recently opened a shared equipment commons. "The new, shared facility houses laboratory equipment available to TBTI's resident and affiliate clients, providing access to resources that would be cost prohibitive for a start-up company," said Plant.
For information on the Tampa Bay Technology Incubator program, contact Wendy Plant at wplant@usf.edu.
##
USF CONNECT focuses on the needs of Tampa Bay's technology and bio/life sciences entrepreneurs throughout the business life cycle, providing the facilities, partners and resources for successful business development. USF CONNECT offers access to technologies, workforce programs, technology commercialization, critical research equipment, and incubator facilities, adding value and delivering targeted, high level expertise to its member businesses.
The Tampa Bay Technology Incubator (TBTI) is one vehicle through which USF CONNECT grows successful companies. TBTI supports technology research as a catalyst for economic development and advocates the creation and development of facilities for high-technology companies and related support functions.
The University of South Florida is a high-impact, global research university dedicated to student success. USF is a Top 50 research university among both public and private institutions nationwide in total research expenditures, according to the National Science Foundation. Serving nearly 48,000 students, the USF System has an annual budget of $1.5 billion and an annual economic impact of $4.4 billion. USF is a member of the American Athletic Conference and a Charter Member Institution of the National Academy of Inventors.
Media Contact:
Wendy Plant
Program Manager
USF Tampa Bay Technology Incubator
(813) 974-1082
wplant@usf.edu
###