Award recognizes exceptional achievement in technological innovation and entrepreneurial success
TAMPA, Fla. – Four faculty members from the University of South Florida have received the USF Excellence in Innovation Award for exceptional achievement in innovation and research.
Michael Fountain, Daniel Yeh, Subhra Mohapatra, and Shufeng Zhou received the $2,000 award with a plaque of recognition, presented by USF President Judy Genshaft and Dr. Paul R. Sanberg, senior vice president for research and innovation and president of the National Academy of Inventors, at the sixth annual meeting and luncheon of the USF Chapter of the National Academy of Inventors, held Oct. 13 at the Embassy Suites Hotel in the USF Research Park on the university's Tampa campus.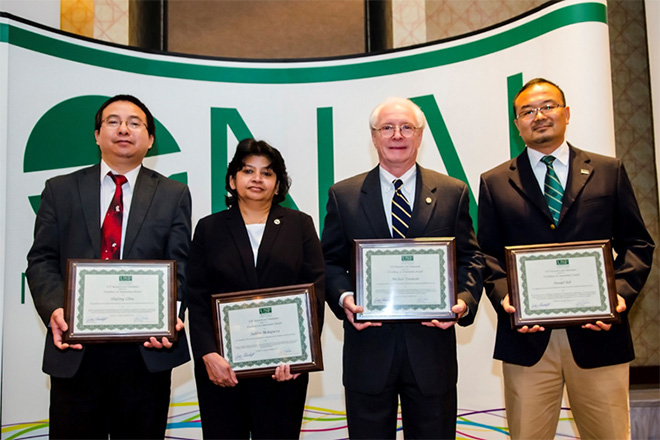 (From left: Shufeng Zhou, Subhra Mohapatra, Michael Fountain, Daniel Yeh (Photo: Aimee Blodgett, USF News).
"One of the strategic goals of the University of South Florida is to focus on innovative technologies and the development of new entrepreneurial relationships between faculty and industry that could lead to enhanced economic development," said Sanberg in introducing the award recipients. "The object of the award is to encourage and reward the highest levels of technological innovation and entrepreneurial success by acknowledging our best scholars and investigators and to inspire continued high-quality research, innovation, and entrepreneurship throughout the university."
"A community that is home to great inventors is also home to great creative thinkers," said Genshaft. "I am proud that USF has become known around the world as a place where the innovative spirit thrives."
This year's awardees:
Dr. Michael Fountain, director of the Center for Entrepreneurship in the Muma College of Business and professor of industrial and management systems engineering, as well as psychiatry and behavioral medicine, received the award for his pioneering work in the field of micro- and nano-lipid encapsulation technologies for commercial applications; for bringing two landmark liposomal products to the market; and for his role in launching the USF Student Innovation Incubator and providing business and technical guidance to startup companies.
Dr. Daniel Yeh, associate professor of civil and environmental engineering, received the award for his development of waste resource recovery technologies, including the NEWgenerator, which converts waste into nutrients, energy, and water; and ICARUS (Isolated Cultivation of Algal Resource Utilization Sewage), which aims to produce a beneficial product while decreasing the cost of wastewater treatment.
Dr. Subhra Mohapatra, associate professor of molecular medicine in the Morsani College of Medicine, USF Health, was selected for her development of innovative platforms for anti-cancer drug discovery and personalized cancer therapy through growth of new intellectual property, a licensing agreement, the transition from preclinical discovery to the clinic, for funding obtained through federal programs such as SBIR, and for significant publications in technology.
Dr. Shufeng Zhou, professor, associate vice president of global medical development, associate dean of international research, and chair of Pharmaceutical Sciences, in the College of Pharmacy and the Morsani College of Medicine, USF Health, received the award for his development of patent pending nano-formulated tobacco oil for electric cigarettes on porous polymers and cyclodextrin, a technology that provides a healthier alternative to traditional cigarettes and is more environmentally friendly; and for his continued development towards patents in stem cell therapy, potential treatment in tumors, Alzheimer's disease, liver injury protection, and pain reduction.
About the University of South Florida
The University of South Florida is a high-impact, global research university dedicated to student success. USF is a Top 50 research university among both public and private institutions nationwide in total research expenditures, according to the National Science Foundation. Serving nearly 48,000 students, the USF System has an annual budget of $1.5 billion and an annual economic impact of $4.4 billion. USF is a member of the American Athletic Conference and a Charter Member Institution of the National Academy of Inventors.www.usf.edu
Media Contact: Judy Lowry, 813-974-3181, jhlowry@usf.edu