Technology quickly diagnoses life-threatening condition in pregnant women
TAMPA, Fla. – A team of engineers from the University of South Florida has been selected as one of 11 finalists in the $2.25 million Nokia Sensing XCHALLENGE, a global competition to develop breakthrough medical sensing technologies that will ultimately enable faster diagnoses and easier personal health monitoring.
Team Hemolix, led by Dr. Anna Pyayt, professor and head of the USF Innovative Biomedical Instruments and Systems Lab in the Department of Chemical and Biomedical Engineering, developed the Hemolix technology for early detection of a deadly pregnancy complication called "HELLP syndrome," a form of severe preeclampsia that can lead to the death of both mother and child if not diagnosed in time.
"Doctors desperately need sensors that can detect HELLP syndrome early to give them precious time to save the patient. Unfortunately, the best available methods currently take several hours, which may be too late," said Pyayt. "Our Hemolix technology can detect HELLP almost instantly with great accuracy and at a low cost, and it can be made available practically anywhere."
The Hemolix technology turns mobile phones into biomedical testing platforms by combining innovative computer processing with a low-cost plastic device that attaches to a smartphone. It then uses an application that allows for fast and accurate measurement of blood plasma hemoglobin concentration. This system can be made available anywhere in the world via a downloadable software package and a physical model that can be easily 3D printed.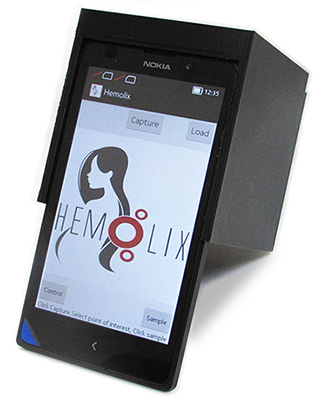 The final phase of the Nokia Sensing XCHALLENGE includes an online voting campaign through Oct. 30, 2014. The online votes will account for 10 percent of a team's overall score, with the remaining 90 percent evaluated by a judging panel comprising digital health and medical industry experts.
"We are honored to be a finalist in the Nokia Sensing XCHALLENGE, which includes teams from all over the world," said Pyayt. "We hope that the broad visibility gained from being part of this XPRIZE competition will help this technology become widely available and ultimately save the lives of hundreds of thousands of pregnant women and their babies."
Videos of all finalist teams and their breakthrough technologies can be viewed and voted on from Oct. 22 through Oct. 30 at www.nokiasensingxchallengevoting.org. One vote is permitted per person. A direct link to the Team Hemolix video and voting is at www.hemolix.com.
The winning teams will be announced on Nov. 10, 2014. This is the second of two consecutive, separate XPRIZE competitions in the Nokia Sensing XCHALLENGE (sensing.xprize.org).
About the University of South Florida
The University of South Florida is a high-impact, global research university dedicated to student success. USF is a Top 50 research university among both public and private institutions nationwide in total research expenditures, according to the National Science Foundation. Serving nearly 48,000 students, the USF System has an annual budget of $1.5 billion and an annual economic impact of $4.4 billion. USF ranks 13th in the nation for entrepreneurship and among the top 15 universities worldwide for U.S. patents (IPO/NAI), and is a member of the American Athletic Conference and a charter institution of the National Academy of Inventors. www.USF.edu
About XPRIZE
Founded in 1995, XPRIZE is the leading organization solving the world's Grand Challenges by creating and managing large-scale, high-profile, incentivized prizes in five areas: Learning; Exploration; Energy & Environment; Global Development; and Life Sciences. Active prizes include the $30M Google Lunar XPRIZE, the $15M Global Learning XPRIZE, the $10M Qualcomm Tricorder XPRIZE, the $2.25M Nokia Sensing XCHALLENGE and the $2M Wendy Schmidt Ocean Health XPRIZE. www.xprize.org
Media Contact: Lauren Golin, (813) 974-0102, lgolin@usf.edu