Innovative 3D "tumor-on-a-dish" could lead to new cancer drugs
TAMPA, Fla. – TransGenex Nanobiotech Inc., a research and development company, has announced that its cancer nanotechnology division has exclusively licensed the University of South Florida's "3D tumor cell" technology for all cancer related uses. This marks a first step for the company to evolve technology to product manufacturing.
The licensing agreement will enable the company's novel "tumor-on-a-dish" platform and provides TransGenex exclusive rights to commercializing 3D cancer cell culture reagents, as well as provide services such as 3D cell based assay for anti-cancer drug discovery and harnessing its "tumor-on-dish" technology to develop clinical diagnostics for personalized cancer treatment.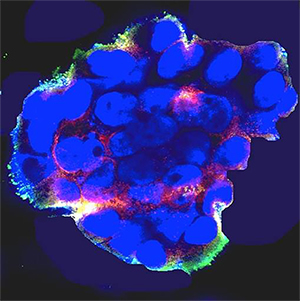 "Our dream is to use the latest technology in the nanofiber scaffolds to help improve the quality of life for millions of people," said Mohapatra, who is also a USF Health Distinguished Professor. "We are very excited to work with USF to make this dream come true."
USF's 3D tumor technology complements TransGenex's advances in the custom synthesis of nanoparticles for cell targeted therapies and nanoscale platforms for ultra-rapid diagnosis of human diseases. TransGenex aims to enhance the ways in which cancer research is conducted and anti-cancer drugs are discovered, and to find cheaper, faster and better personalized cancer treatment approaches, said Mohapatra.
"We are looking forward to continued collaboration with USF to bring together their 3D tumor technology and TransGenex's extensive knowledge of large scale manufacturing and commercializing these products and services," said TransGenex President Bernard Skerkowski. "This is a key step for us to go beyond the confines of traditional anti-cancer drug discovery and cancer management, starting with the cancer detection by biopsy."
About the University of South Florida
The University of South Florida is a high-impact, global research university dedicated to student success. USF is a Top 50 research university among both public and private institutions nationwide in total research expenditures, according to the National Science Foundation. Serving nearly 48,000 students, the USF System has an annual budget of $1.5 billion and an annual economic impact of $4.4 billion. USF is a member of the American Athletic Conference and a Charter Member of the National Academy of Inventors.
Disclaimer
The foregoing release contains forward-looking statements that can be identified by words such as "potential," "opportunity," "pipeline," "subject to anti-trust approvals," "aims," "looking forward to," "will," "seeks," "could," or similar terms, or by express or implied discussions regarding the potential future development of products based on the TransGenex's tumor-on-dish technology, potential additional collaborations between USF and TransGenex, or regarding potential future revenues from such projects. You should not place undue reliance on these statements. Such forward-looking statements are based on the current beliefs and expectations of management regarding future events, and are subject to significant known and unknown risks and uncertainties. Should one or more of these risks or uncertainties materialize, or should underlying assumptions prove incorrect, actual results may vary materially from those set forth in the forward-looking statements. There can be no guarantee that products based on the TransGenex's Tumor-on-a-dish technology or any other products based on collaborations between USF and TransGenex. Nor can there be any guarantee that any such products will be commercially successful in the future. In particular, management's expectations regarding such products could be affected by, among other things, unexpected regulatory actions or delays or government regulation generally, including an unexpected failure to obtain necessary government approvals for the collaboration, or unexpected delays in obtaining such approvals; the uncertainties inherent in research and development, including unexpected research failures or delays, unexpected collaboration issues, and unexpected clinical trial results; the company's ability to obtain or maintain proprietary intellectual property protection; general economic and industry conditions; global trends toward health care cost containment, including ongoing pricing pressures; unexpected manufacturing issues, and other risks and factors stated or unstated. TransGenex is providing the information in this press release as of this date and does not undertake any obligation to update any forward-looking statements contained in this press release as a result of new information, future events or otherwise.
Media Contact: Lauren Golin, lgolin@usf.edu, 813-974-0102