STEM Genesis wins first annual pitch competition
TAMPA, Fla. – Business leaders, entrepreneurial support organizations, community dignitaries, and local media outlets gathered to support local entrepreneurs at the USF CONNECT 2nd annual "Building Entrepreneurship Around Tampa" (B.E.A.T.) event on Nov, 18, 2014 at the University of South Florida.
Michael Muthig, owner of company STEM Genesis, won this year's First Annual Pitch Competition. The Pitch Competition featured eight local incubator companies presenting their business ventures to potential angel investors. As this year's winner, Muthig received complimentary admission to the 2015 Florida Venture Forum's 8th Annual Early Stage Conference.
"We were pleased to be given the opportunity to present and honored to be chosen as the winner," said Muthig. "Exposure from this event has already resulted in leads to investment capital and we hope to close an initial round of seed funding based on the new contacts we were able to make."
The B.E.A.T. event featured entrepreneurial talent from the Tampa Bay Technology Incubator, Student Innovation Incubator, First WaVE and Pasco SMARTstart entrepreneurs. The event provided a collaborative environment where Tampa's small businesses exhibited, demonstrated and explained their products and services to members of the community.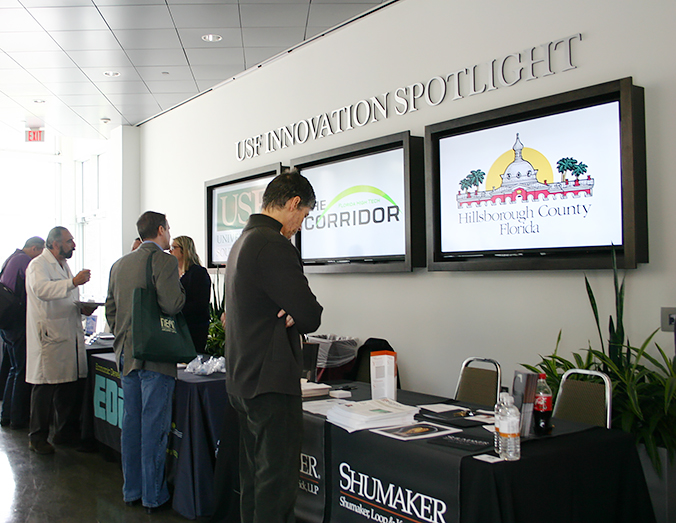 The USF CONNECT annual B.E.A.T. event is part of Global Entrepreneurship Week, held every November. This year, 150 countries around the world participated by hosting events, competitions, and activities designed to inspire innovation and celebrate entrepreneurship.The B.E.A.T. event is a USF ResearchOne event sponsored by The Corridor, Hillsborough County, Shumaker, Loop, & Kendrick, LLP, Draper Laboratory, Inc. and Smith & Hopen, P.A.
"The B.E.A.T. showcases the fresh and innovative talent brewing across the Tampa Bay region," said Stephanie Ashley, director of innovation and incubation programs at USF. "We are excited to create tangible business growth opportunities like these for our local entrepreneurs and promote the economic development of our region."

USF CONNECT focuses on the needs of Tampa Bay's technology and bio/life sciences entrepreneurs throughout the business life cycle, providing the facilities, partners and resources for successful business development. USF CONNECT offers access to technologies, workforce programs, technology commercialization, critical research equipment, and incubator facilities, adding value and delivering targeted, high level expertise to its member businesses. www.usfconnect.org.
The Tampa Bay Technology Incubator (TBTI) is one vehicle through which USF CONNECT grows successful companies. TBTI supports technology research as a catalyst for economic development and advocates the creation and development of facilities for high-technology companies and related support functions.
The University of South Florida is a high-impact, global research university dedicated to student success. USF is a Top 50 research university among both public and private institutions nationwide in total research expenditures, according to the National Science Foundation. Serving nearly 48,000 students, the USF System has an annual budget of $1.5 billion and an annual economic impact of $4.4 billion. USF is a member of the American Athletic Conference and a Charter Member Institution of the National Academy of Inventors. www.usf.edu.