Special issue of Technology and Innovation also features papers on pharmacy and nanotechnology
TAMPA, Fla. – The current special issue of Technology and Innovation is devoted to presentations from the Third Annual Conference of the National Academy of Inventors (NAI), which was held Mar. 6-7, 2014, at the headquarters of the United States Patent and Trademark Office (USPTO) in Alexandria, Va.
"The conference attracted 250 inventors as well as academic leaders and featured presentations and panel discussions by more than 35 distinguished scientists and innovators," said Nasser Arshadi, vice provost for research, Office of Research Administration, University of Missouri, St. Louis, and co-editor of the issue.
Conference events included trophy and rosette pin presentations by U.S. Deputy Commissioner for Patent Operations Andrew Faile at the induction of the 2013 class of NAI Fellows in recognition of their accomplishments as inventors. Their names and institutions are on permanent display at the USPTO.
This special issue of Technology and Innovation (16:3-4) includes select articles from presentations given at the conference, as well as a general section with articles related to pharmacy and nanotechnology, and an additional manuscript discussing innovation in chemistry.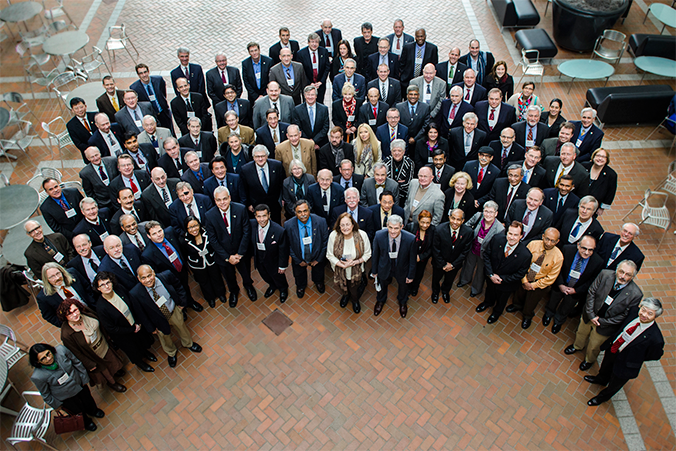 National Academy of Inventors Third Annual Conference at the United States Patent and Trademark Office in Alexandria, Virginia, March 6-7, 2014. (Photo Credit: © Aimee Blodgett, USF News).
Center for the Study of Invention and Innovation
The paper by Arthur P. Molella and Monica M. Smith describes the formation of the Lemelson Center for the Study of Invention and Innovation at the Smithsonian Institution's National Museum of American History and presents six case studies to demonstrate that "invention hot spots" are born out of a mix of creative people, readily available resources, and inspiring ecosystems.
The Inventor as Invisible Hero
According to Yolanda Leslie Comedy, the inventor is "an invisible hero" who valiantly discovers, invents, innovates and produces novel products and services that lead to economic development. Thomas Jefferson was such a figure, writes Comedy, and not only an inventor, but in 1790 established the forerunner of today's USPTO.
Alternatives for Treating Tissue and Organ Failure
Treatments for tissue and organ failure currently rely on grafts either "self-donated" or "other-donated." Either kind of graft can be risky in terms of rejection, disease transmission, or donor shortages. Roshan James and colleagues describe an approach, relying on biomaterials and biomolecules to fabricate functional tissue substitutes, to help reduce the complications inherent in current methods.
IP Commercialization and the "Ditch of Death"
According to Kurt H. Becker and colleagues, a potential stage between the development of intellectual property (IP) and its commercialization might be called the "ditch of death" because many promising inventions and emerging new technologies developed in our academic research labs never reach the stage of commercialization. The authors describe the establishment of a consortium in New York state that provides early-stage, pre-incubation support for clean-energy technologies to nurture them to the point of formation of a start-up with a reasonable chance of commercial success.
Seven Steps to Success
Engineers and scientists might not be very adept at business formation, writes Paul Swamidass. For that reason, he offers a seven-step model in his article that begins with idea formation and proceeds though stages of product development, business model, capital search, establishing a start-up, growing a business, and managing a company. Anecdotes used by Swamidass help to illustrate the steps of his model.
Pharmacy and Nanotechnology
Leading the section on pharmacy and nanotechnology, Anastasia Groshev and colleagues report on the application of nanotechnology to medicine and discuss how precise targeting of specific cells and tissues in health care delivery, both diagnostically and therapeutically, has impacted medicine in terms of the public's safety perceptions, ethics and regulatory barriers.
In their article, LaRon E. Nelson and co-authors suggest that a low-cost, simple solution to successfully treating sexually-transmitted infections in sub-Saharan Africa might be a nano-based, rapid biosensor. Such a solution, they argue, can replace ineffective diagnostic tools that have left many infected patients undiagnosed and untreated.
Nanotechnology is relevant in pharmacology, says Samuel M. Rapaka and colleagues, who discuss factors of nanotechnology and pharmacology ranging from economic to regulatory matters. "The growth of nanotechnology depends on whether it provides innovative solutions that are superior to non-nanoscale alternatives in terms of cost-effectiveness, safety and efficacy," says Rapaka.
Innovation in Chemistry
The final paper, by Dean F. Martin and Barbara B. Martin, discusses the study of non-existent compounds and provides insights into what inhibits innovation in this field. Among those factors discussed are budget constraints, disinterest in compounds that lack obvious utility, and synthetic challenges.
"The annual NAI conference brings together inventors, researchers and leaders from universities, research institutions and government institutions every year to discuss issues related to academic innovation," said Eric R. Fossum, professor of engineering and director of the Ph.D. Innovation Program at the Thayer School of Engineering at Dartmouth College, and co-editor of the issue with Arshadi. "We are pleased to showcase the work of our members and Fellows in the latest issue of Technology and Innovation."
The fourth annual conference of the National Academy of Inventors will take place Mar. 19 and 20, 2015, at the California Institute of Technology in Pasadena, California.
The National Academy of Inventors is a 501(c)(3) non-profit member organization comprising U.S. and international universities, and governmental and non-profit research institutes, with over 3,000 individual inventor members and Fellows spanning more than 200 institutions, and growing rapidly. It was founded in 2010 to recognize and encourage inventors with patents issued from the U.S. Patent and Trademark Office, enhance the visibility of academic technology and innovation, encourage the disclosure of intellectual property, educate and mentor innovative students, and translate the inventions of its members to benefit society. The NAI offices are located in the USF Research Park in Tampa. The NAI edits the multidisciplinary journal, Technology and Innovation, published by Cognizant Communication Corporation (NY). www.academyofinventors.org
The editorial offices of Technology and Innovation are located in the USF Research Park, 3702 Spectrum Blvd., Suite 165, Tampa, Florida, 33612 USA. Tel: +1-813-974-1347. Email TIjournal@research.usf.edu. www.TechnologyandInnovation.org