Federal grant expected to aid startup companies and create jobs for the area
TAMPA, Fla. – U.S. Secretary of Commerce Penny Pritzker announced that the University of South Florida, in partnership with Tampa Bay WaVE, is among the first 26 recipients of the 2014 Regional Innovation Strategies program grants. The USF-Tampa Bay WaVE partnership received a $500,000 i6 Challenge grant.
The award, announced yesterday, is the second i6 grant received by the USF-led partnership, which received $1 million in 2012 to launch the FirstWaVE Venture Center. The project is led by Stephanie Ashley, USF's director of business incubation and economic development, Paul R. Sanberg, USF senior vice president for research, innovation and economic development, and Linda Olson, founder and executive director of Tampa Bay WaVE. Matching contributions from public and private community partners raise the total project amount to over $1 million.
The 2012 grant enabled 94 startup companies to participate in the accelerator program, raise $12.6 million in outside capital, and create and retain 337 new jobs. In 2014, FirstWaVE was recognized by the Hillsborough County Commission with a commendation for achievement in raising outside capital.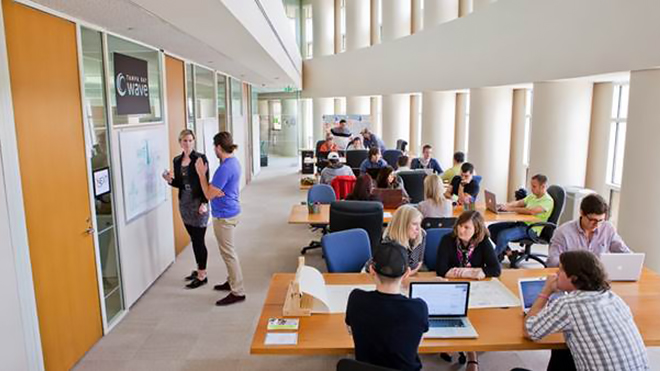 "This investment will support the expansion of the FirstWaVE Venture Center in Tampa, a program that has been highly successful in connecting high-growth startups with mentorship, early stage capital and other resources to foster a culture of innovation throughout the region," said Ashley.
"We are proud to partner with the Tampa Bay WaVE, the Florida High Tech Corridor Council, Hillsborough County and private companies in this important effort to grow the high-tech economy," said USF President Judy Genshaft. "This grant allows us to continue to support our local tech entrepreneurs as they develop new ideas and take them to market. Economic development is one of USF's most important missions, and this grant supports these crucial efforts to modernize and diversify our regional economy."
Since its launch, the FirstWaVE Venture Center has had more than 250 tech entrepreneurs utilize its co-working space and has hosted 325 events for over 8,000 people.
"The project seeks to increase the overall number of startups and accelerate the commercialization of inventions and ideas by providing more specialization and better resources for specific industries and demographics, such as the IT, education, hospitality, call centers, and manufacturing industries, as well as for women-led and veteran-led high-growth companies," said Ashley.
"We are delighted that the Department of Commerce is continuing to recognize the innovative opportunities for entrepreneurs in our region," said Sanberg. "Receiving a second i6 grant in Tampa, together with the nearly $750,000 in grants also awarded by the Department of Commerce to the University of Central Florida, demonstrates the powerhouse for economic development that USF and UCF are creating along the I-4 high tech corridor in Florida."
The Regional Innovation Strategies (RIS) program, which is being run by the Department's Economic Development Administration's (EDA) Office of Innovation and Entrepreneurship (OIE), is a new initiative designed to advance innovation and capacity-building activities in regions across the country through three different types of grants: i6 Challenge grants, Cluster Grants for Seed Capital Funds, and Science and Research Park Development Grants.
Secretary Pritzker announced the recipients of the first two funding opportunities. Recipients of the third grant will be announced in the coming weeks.
"As America's "Innovation Agency," the Commerce Department has a key role to play in supporting the innovators and job creators of tomorrow," said Secretary Pritzker. "We want to ensure that all entrepreneurs have access to the tools they need to move their ideas and inventions from idea to market. The Regional Innovation Strategies Program competition is designed to advance this mission across the United States, strengthening our economy and our global competitiveness."
The i6 Challenge was launched in 2010 as part of the Startup America Initiative and is now in its fourth iteration. i6 is a national competition that makes small, targeted, high-impact investments to support startup creation, innovation, and commercialization. Now that the i6 Challenge is included in the new Regional Innovation Strategies Program, the funding will support more than just Proof-of-Concept Centers. Investments will also go toward the expansion of existing centers and in later-stage Commercialization Centers, which help innovators fine tune and scale their innovations to bring new products and services to the market. The total amount of funding for the i6 Challenge under RIS is nearly $8 million.
"Our original i6 Challenge grant was a result of unprecedented collaboration between the academic, governmental, and business communities of Tampa Bay," Olson said. "Tampa Bay WaVE is excited to continue our work with USF and our other regional partners to grow this one-of-a kind facility and program to help technology entrepreneurs create and grow thriving technology companies."
More information about the Regional Innovation Strategies Program, including a full list of the 2014 grant recipients, can be found here: www.eda.gov/oie/2014-risp-competition.htm.
About the University of South Florida
The University of South Florida is a high-impact, global research university dedicated to student success. USF is a Top 50 research university among both public and private institutions nationwide in total research expenditures, according to the National Science Foundation. Serving nearly 48,000 students, the USF System has an annual budget of $1.5 billion and an annual economic impact of $4.4 billion. USF is a member of the American Athletic Conference. www.usf.edu
About the U.S. Economic Development Administration
The mission of the U.S. Economic Development Administration (EDA) is to lead the federal economic development agenda by promoting competitiveness and preparing the nation's regions for growth and success in the worldwide economy. An agency within the U.S. Department of Commerce, EDA makes investments in economically distressed communities in order to create jobs for U.S. workers, promote American innovation, and accelerate long-term sustainable economic growth. www.eda.gov
Media Contact:
Stephanie Ashley
sashley1@usf.edu
813-638-9161