Research to be published in Physical Review Letters journal
TAMPA, Fla. – A research group from the University of South Florida has discovered how to couple magnetism and electricity in materials using temperature. Their findings will be published in the high profile journal, Physical Review Letters.
Author Sergey Lisenkov, research assistant professor of physics at USF, and his co-authors, Chun-Min Chang of Michigan State University, Brajesh K. Mani, postdoctoral scholar in physics, also at USF, and Inna Ponomareva, associate professor of physics at USF have proposed a new way to couple magnetic and electric properties in multiferroic materials. Such materials have a revolutionary potential for both science and technology as they allow control of magnetization by an electric field and electric polarization by a magnetic field.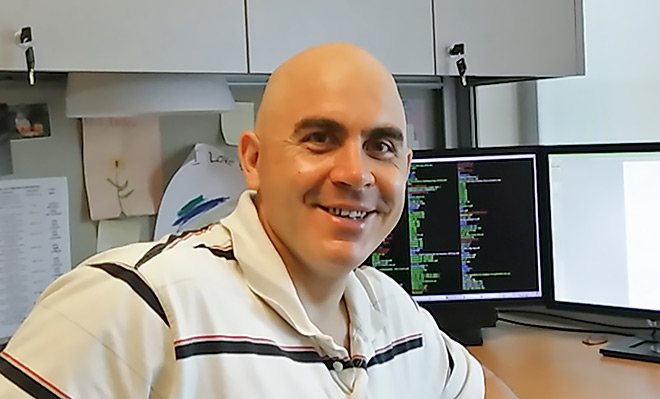 "Nature tends to favor either magnetic properties or electric ones but not both simultaneously," said Lisenkov. "In our work, we propose to bypass this fundamental limitation by coupling the electric polarization and magnetization indirectly using the temperature as a mediator."
In their computational experiments they found a four order of magnitude enhancement of magnetoelectric coupling in multiferroic material, BiFeO3, when the temperature mediated mechanism is activated. Future application for their discovery could include engineering of multiferroic materials for new generation electronics and memory technology.
##
The University of South Florida is a high-impact, global research university dedicated to student success. USF is a Top 50 research university among both public and private institutions nationwide in total research expenditures, according to the National Science Foundation. Serving nearly 48,000 students, the USF System has an annual budget of $1.5 billion and an annual economic impact of $4.4 billion. USF is a member of the American Athletic Conference and a Charter Member Institution of the National Academy of Inventors. www.usf.edu
###
Source: University of South Florida Research & Innovation
Media Contact:

Judy Lowry
jhlowry@usf.edu
(813)-974-3181