University of South Florida becomes the second in Florida to be named an I-Corps site by the National Science Foundation
TAMPA, Fla. – The University of South Florida has been named an I-Corps™ Site by the National Science Foundation (NSF), becoming the second site in Florida and one of only three dozen institutions around the country to earn the designation.
USF will receive nearly $300,000 to build, train, and mentor teams of USF faculty and students to become successful entrepreneurs and commercialize their ideas over the next three years.
The I-Corps program was created by the NSF in 2011 to transition federally funded research projects at colleges and universities into commercial products. The University of Central Florida (UCF) was designated an I-Corps Site in 2014.
The funding will support curriculum and instruction for the selected teams, mentoring from experienced entrepreneurs, assistance with identifying potential markets and customers, and testing their business model and new products in USF's business incubator. The goal is to launch multiple successful start-up companies at the end of the three-year grant.
"USF already is a strong leader in bringing the scientific and technology discoveries of our faculty, students, and community out of the lab and into the marketplace," said Paul Sanberg, USF senior vice president for research, innovation and economic development. "This grant is important in our joint efforts with our partners from both the Florida Consortium of Metropolitan Research Universities and the Florida High Tech Corridor Council. It places our state at the forefront of academic technology transfer."
The Florida Consortium of Metropolitan Research Universities is composed of USF, UCF and Florida International University. The Florida High Tech Corridor Council comprises USF, UCF and the University of Florida.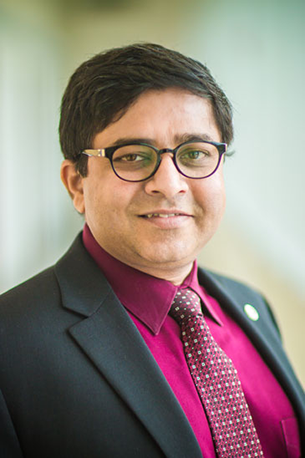 Dr. Sudeep Sarkar
"As a leader in initiating new start-ups, USF is uniquely positioned for this opportunity," said Valerie McDevitt, associate vice president for technology transfer and business partnerships. "In 2014, USF had the most I-Corps teams in Florida and ranked third in number of teams in the nation, with the University of Michigan and Georgia Institute of Technology. This grant will help us create even more teams."
The USF I-Corps Site will be a university-wide interdisciplinary initiative administered under the direction of Sudeep Sarkar, professor of computer science and engineering in the College of Engineering and associate vice president for research and innovation, Sanberg, McDevitt, and Michael Fountain, director of the USF Center for Entrepreneurship in the Muma College of Business, which is ranked 13th on the Princeton Review's "Top 50 Schools for Entrepreneurship Programs."
"As a new I-Corps Site, USF will be able to more effectively help our faculty and students translate their new technologies into the mainstream," said Sarkar. "This new designation strengthens our role as a hub of innovation and discovery in Tampa Bay."
I-Corps program information: venturewell.org/i-corps
##
The University of South Florida is a high-impact, global research university dedicated to student success. USF is a Top 50 research university among both public and private institutions nationwide in total research expenditures, according to the National Science Foundation. Serving nearly 48,000 students, the USF System has an annual budget of $1.5 billion and an annual economic impact of $4.4 billion. USF is a member of the American Athletic Conference and a Charter Member Institution of the National Academy of Inventors. www.usf.edu
###
Media Contact: Judy Lowry, jhlowry@usf.edu, 813-974-3181