USF is one of only 18 universities nationally to receive the APLU designation this year
TAMPA, Fla. – The University of South Florida has been named an Innovation & Economic Prosperity University by the Association of Public and Land-grant Universities (APLU), in recognition of its strong commitment to economic engagement.
USF is one of 18 universities to receive the designation this year, a designation held by only 48 universities nationwide, and the second university in Florida to receive the designation. The University of Central Florida received the designation in 2013.
"USF has grown into an economic driver for Tampa Bay and the state of Florida," said Judy Genshaft, president of the USF System. "Economic engagement with our community is essential to our success as a university and we are honored to receive this designation from the APLU."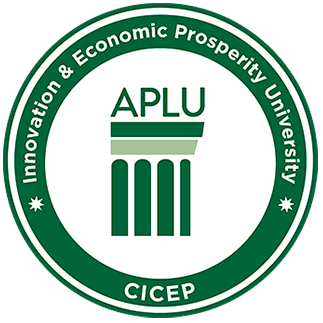 The designation acknowledges universities working with public and private sector partners in their states and regions to support economic development through a variety of activities, including innovation and entrepreneurship, technology transfer, talent and workforce development, and community development. Each university received the designation after conducting a thorough self-review with outside stakeholder input and subsequently submitting an application that went through a rigorous independent review process.
"We are fortunate to have outstanding partners in the community," said Paul R. Sanberg, USF senior vice president for research, innovation and economic development. "And we are proud of our faculty, students and staff whose research, innovation and community engagement are making an impact that benefits our region, state and nation."
Sanberg credits the vision and support of USF President Judy Genshaft and university leadership, the focused work of a 50-member multidisciplinary university committee that includes representatives from many USF divisions and all colleges and campuses, plus valuable input from community partners gathered via surveys, focus groups and annual economic prosperity "summits" with helping the university strengthen its economic engagement in Tampa Bay.
"Public universities serve as economic engines for their local communities and states by conducting cutting edge research to reach new breakthroughs and developing the talent to help existing businesses grow stronger and enabling new ones to develop and thrive," said APLU President Peter McPherson. "The 18 institutions in the 2015 class of Innovation & Economic Prosperity Universities serve as wonderful models of how public research universities extend beyond their campuses to engage their communities in economic development that create jobs and improve lives."
The other 17 institutions comprising the 2015 class of Innovation and Economic Prosperity Universities include: Auburn University; Binghamton University; Clemson University; East Carolina University; Mississippi State University; New Jersey Institute of Technology; New Mexico State University; Ohio University; Southern Illinois University; University of Arizona; University of Kansas; University of Louisville; University of Maryland; University of Nebraska-Lincoln; University of New Mexico; Utah State University; and Western University.
APLU's Commission on Innovation, Competitiveness, and Economic Prosperity (CICEP) focuses on efforts to help public universities plan, assess, and communicate their work in regional, national, and global economic development using the CICEP "Economic Engagement Framework," which includes tools for university self-assessment, metrics determination, and economic impact analysis.
"The 2015 Innovation and Economic Prosperity University designees demonstrate how institutions can conduct honest self-assessments to recognize strengths, weaknesses, and opportunities as they work to advance economic engagement activities throughout their communities," said Jim Woodell, APLU assistant vice president for innovation and technology policy. "APLU's CICEP Framework has become a critical tool for universities seeking to strengthen their economic engagement activities and we are pleased to showcase these 18 public universities that are helping to lead the way."
The 18 new Innovation & Economic Prosperity University designees conducted an institutional self-study and solicited input from external stakeholders. Each university designee identified three areas of institutional strength in economic engagement and described programs in these areas. Designees also identified areas for growth and improvement for their university's economic engagement enterprise, and developed an improvement plan. This work demonstrated a commitment to continuous learning and improvement in this kind of engagement vital to universities and their regional partners.
Applications for the designation were scored by a panel of reviewers representing other universities and also national partners, including the Association of University Research Parks, the Association of University Technology Managers, the Biotechnology Industry Organization, the Business Higher Education Forum, the Ewing Marion Kauffman Foundation, Innovosource, the Lemelson Foundation, the University Economic Development Association, the National Association of System Heads, and VentureWell. Scoring was based on a range of criteria emphasizing universities' development of their economic engagement enterprise, their planning efforts around economic engagement, strategic communications around these efforts, and participation in encouraging economic engagement among peer institutions.
About the APLU
Representing 238 public research universities, land-grant institutions, state university systems, and related organizations, the Association of Public and Land-grant Universities is the nation's oldest higher education association with member institutions in all 50 states, the District of Columbia, four U.S. territories, Canada, and Mexico. Annually, APLU member campuses enroll 4.8 million undergraduates and 1.3 million graduate students, award 1.2 million degrees, employ 1.4 million faculty and staff, and conduct $41.4 billion in university-based research.
About the University of South Florida
The University of South Florida is a high-impact, global research university dedicated to student success. USF is a Top 50 research university among both public and private institutions nationwide in total research expenditures, according to the National Science Foundation. Serving nearly 48,000 students, the USF System has an annual budget of $1.5 billion and an annual economic impact of $4.4 billion. USF is a member of the American Athletic Conference.
Media contact: Judy Lowry, jhlowry@usf.edu, 813-974-3181