Award recognizes exceptional achievement in technological innovation and entrepreneurial success
By Christine Gitch
USF Research News
TAMPA, Fla. – Five faculty members from the University of South Florida have received the USF Excellence in Innovation Award for exceptional achievement in innovation and research.
Kyle B. Reed, Yu Chen, John H. Paul, Umesh Jinwal, and Lindsey Shaw received the $2,000 award with a plaque of recognition, presented by USF President Judy Genshaft and Dr. Paul R. Sanberg, senior vice president for research, innovation and economic development and president of the National Academy of Inventors, at the seventh annual meeting and luncheon of the USF Chapter of the National Academy of Inventors, held Aug. 31 at the Galleria in the USF Research Park on the university's Tampa campus.
"One of USF's the strategic goals is to focus on innovative technologies and the development of new entrepreneurial relationships between faculty and industry that could lead to enhanced economic development for our region," said Sanberg. "The Excellence in Innovation Award was established in 2009 to reward outstanding achievement and show appreciation for faculty who are translating their research results into commercial applications and industry relationships."
This year's awardees: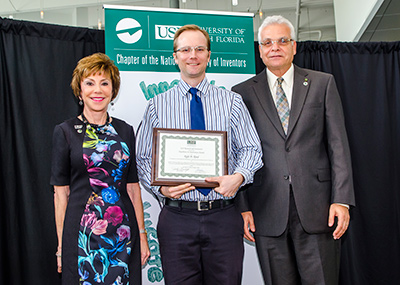 Judy Genshaft, Kyle Reed, Paul Sanberg (Photo: Aimee Blodgett, USF News).
Kyle B. Reed is assistant professor of mechanical engineering. He received his Ph.D. in mechanical engineering at Northwestern University in 2007. His innovative research during 2014 resulted in three of his patents being licensed to Moterum, LLC, and five new patent applications submitted. Two of the licensed patents relate to the Gait Enhancing Mobile Shoe that rehabilitates the gait of individuals with stroke. The other licensed patent is for an assistive crutch that provides assistive forces to propel an individual forward while walking on a crutch. Both the shoe and crutch were featured as the cover article of Science News in 2014. He has also published three journal papers and one book chapter, some related to his ongoing NSF-funded project exploring bimanual interactions.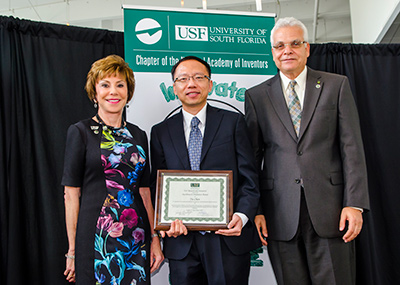 Judy Genshaft, Yu Chen, Paul Sanberg (Photo: Aimee Blodgett, USF News).
Yu Chen is associate professor of molecular medicine. He received his Ph.D. in biochemistry at the University of Chicago in 2002. His patented technology of novel beta-lactamase inhibitors was licensed in 2014 by Gordian Biotechnologies Inc. to develop novel antibiotics against bacterial resistance. He is a founding member of the company and serves as co-chair for the Scientific Advisory Board. He has developed a collaboration with a publicly traded biotechnology company, Achaogen Inc. in San Francisco, to develop novel antibiotics. He has published scientific papers and reviews on novel inhibitor discovery targeting antibiotic resistance and metastatic cancer in top medicinal chemistry journals, such as the Journal of Medicinal Chemistry. His collaborative work led to novel inhibitors targeting Alzheimer's disease and the Moore AD grant award.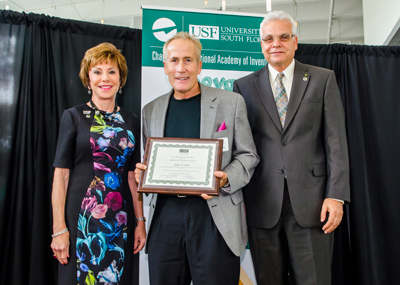 Judy Genshaft, John Paul, Paul Sanberg (Photo: Aimee Blodgett, USF News).
John H. Paul is a Distinguished University Professor of biological oceanography. He received his Ph.D. from the University of Miami in 1980. In 2014, he launched a new company to produce a portable device that would answer the question: Is this really grouper that I am eating? Within six months of receiving his 2013 USF patent, he formed PureMolecular, LLC. His collaborative work led to a submission of a manuscript to Food Control in 2014, a successful proposal to the USF Seed Capital Accelerator Program which received funding from the Florida High Tech Corridor Council in 2014, and a proposal to the National Oceanic and Atmospheric Administration (NOAA) to use his patent to detect the onset of red tides in 2014. His group uses their experience in measuring mRNA as a surrogate for microbial gene expression in the design of hand-held and autonomous sensors for the detection of noxious microorganisms in coastal environments.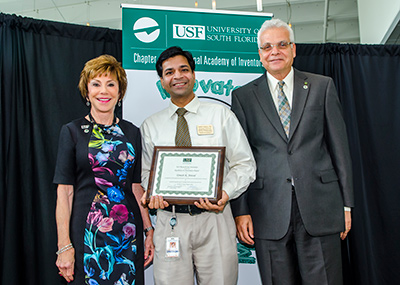 Judy Genshaft, Umesh Jinwal, Paul Sanberg (Photo: Aimee Blodgett, USF News).
Umesh Jinwal is assistant professor of pharmaceutical sciences. He received his Ph.D. in biotechnology from Barkatullah University in 2003. His research focuses on drug discovery for neurodegenerative diseases using novel tools. In 2014, he filed three patent applications and three disclosures. He received two grants from the Byrd Small Grant Program and from the Florida Health Department in 2014. He has successfully published two manuscripts related to the patent applications. Under his guidance, three students from his lab received awards including an ADDF Young Investigator Scholarship Award from the Alzheimer's Drug Discovery Foundation. Jinwal recently received Best Researcher Award from the USF College of Pharmacy and secured a grant award from the BrightFocus Foundation. He is a member of the Alzheimer's Association International Society to Advance Alzheimer Research & Treatment, American Society for Biochemistry and Molecular Biology, and the Society for Neuroscience, among others.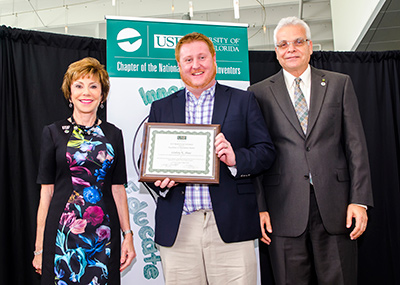 Judy Genshaft, Lindsey Shaw, Paul Sanberg (Photo: Aimee Blodgett, USF News).
Lindsey Shaw is associate professor in the Department of Cell Biology, Microbiology and Molecular Biology. He received his Ph.D. at the University of Sheffield. The Shaw Lab at USF focuses on the pathogenic and drug resistance mechanisms of antibiotic resistant bacteria. Shaw's team was awarded a U.S. patent for novel antibacterial therapeutics designed to treat drug resistant bacterial infections in 2014. This was featured on television and aired in 20 different states, reaching over two million people and generating significant media attention. His group filed a provisional U.S. patent application for a different class of antibacterial agents, which resulted in a research contract with Adynnx Pharmaceuticals. His group also had a research cooperativity agreement with Cubist Pharmaceuticals focused on a project to generate new antibiotic treatments. He has also worked with Zimek Systems developing touchless disinfection systems.
"A community that is home to great inventors is also home to great creative thinkers," said Genshaft. "I am proud that USF is at the heart of our region's bright and innovative future."
Media contact: Judy Lowry, jhlowry@usf.edu, 813-974-3181