Faculty success reflects USF's rising prestige as global research leader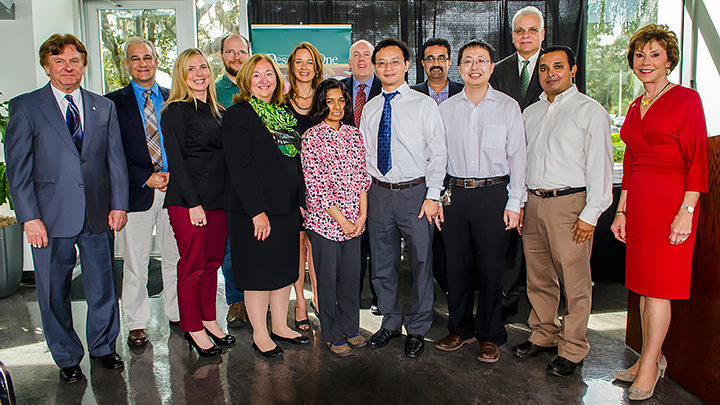 From left: Dwayne Smith, John Mayer, Tiffany Chenneville, Matthew Pasek, Cindy Munro, Camilla Vasquez, Meera Nanjundan, Thomas Williams, Shengqian Ma, Hariharan Srikanth, Jianfeng Cai, Paul Sanberg, Swaroop Ghosh and Judy Genshaft (not pictured: Natasa Jonoska, Frank Muller-Karger) (Photo: Aimee Blodgett, USF News).
TAMPA, Fla. – Thirteen professors from the University of South Florida have been awarded the 2015 Outstanding Research Achievement Award for faculty who have received national and international peer recognition for their research in the previous calendar year.
USF President Judy Genshaft, Dr. Paul R. Sanberg, senior vice president for research, innovation and economic development, and Dr. Dwayne Smith, senior vice provost and dean of graduate studies, presented the awards, which included a check for $2,000, at a luncheon on Oct. 26 in the Galleria at the USF Research Park in Tampa, in recognition of each winner's research accomplishments.
"We are proud to recognize our extraordinary faculty for their achievements," said Sanberg. "This prestigious award is just one example of how USF continues to grow as a research institution on national and international platforms."
The annual awards are part of an open competition, judged by the USF System Research Council, to highlight professional acclaim received by the recipients from their national and international peers for their work during 2014.
The award recipients are: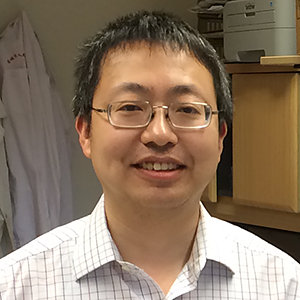 Jianfeng Cai, Ph.D.
Associate Professor, Chemistry
College of Arts and Science

Cai received the NSF-CAREER award in 2014 for his research entitled, CAREER: Lip-cyclic Antimicrobial Peptidomimetics that Disrupt Bacterial Membranes. This project focuses on the design and synthesis of a new class of peptidomimetics and investigation of their action on the bacterial membranes. The research project was funded with a five-year, $500,000 grant beginning July 2014. This award is part of the Department of Chemistry's long standing drug discovery effort and is directed towards the development of new pharmacologically active molecules with high selectivity towards a broad spectrum of bacteria. In addition to the NSF CAREER award, Cai published 14 peer reviewed papers in very high impact journals relating to drug discovery as well as a book chapter entitled, Peptidomimetics as antimicrobial agents, Novel Antimicrobial Agents and Strategies in 2014. In addition, he filed a patent application entitled, Identification of Novel Inhibitors that Disrupt STAT3/DNA Interaction from γ-peptide, OBOC Combinatorial Library.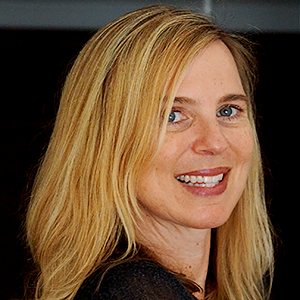 Tiffany Chenneville, Ph.D.
Associate Professor, Psychology
College of Arts and Sciences, USF St. Petersburg

Chenneville's program of study focuses on ethical issues related to pediatric HIV research and treatment. She recently received USFSP's Chancellor's Award for Excellence in Research, an honor reserved for only the most accomplished scholars. She also recently obtained the Women in Leadership and Philanthropy Award. In 2014, Chenneville published four peer reviewed journal articles in high profile journals in her area to include AIDS Patient Care and STDs, Journal of HIV/AIDS and Social Services, Ethics and Behavior, and the Journal of Empirical Research on Human Research Ethics and a peer reviewed book chapter in a seminal volume published by school psychology's primary organization, the National Association of School Psychologists, distinguishing her as an expert in the area of pediatric HIV. Chenneville also received the inaugural Global Pediatric HIV Research Award, a $40,000 grant that will fund a collaborative project with Springs of Hope Kenya, an orphanage for children with HIV.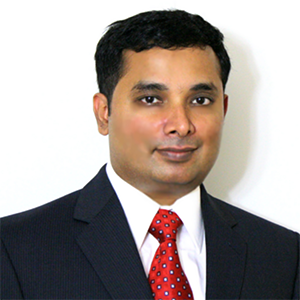 Swaroop Ghosh, Ph.D., Assistant Professor
Computer Science and Engineering
College of Engineering

Ghosh received a 2014 National Science Foundation (NSF) award of nearly $500,000 for research on Exploiting Spintronics for Security, Trust and Authentication. He published six IEEE journal articles, three of which are special issues, with a cumulative impact factor of 10.47. Additionally, he published 10 IEEE papers in very competitive conferences such as Design Automation Conference, International Solid State Circuit Conference, and Design, Automation and Test in Europe. His team won third place in the prestigious Embedded System Competition in Cyber Security Awareness Week Conference. He was elected as associate editor of IEEE Transactions on Circuits and Systems-1 and to the technical advisory board of Hakham Systems. Ghosh filed three patents and served in program committees of prestigious conferences such as DAC, DATE and ISLPED. He chaired several conference sessions and organized a PhD forum and a special issue of the IEEE journal.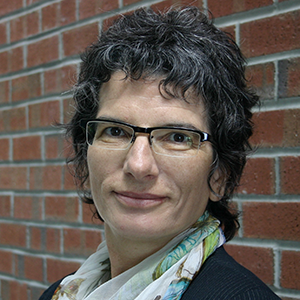 Nataša Jonoska, Ph.D.
Professor, Mathematics and Statistics
College of Arts and Sciences

Jonoska's research interests are in theoretical and computational models of molecular self-assembly. Her research is driven by the issue of how biology computes, in particular using formal models such as cellular or other finite types of automata, symbolic dynamics, and topological graph theory to describe recombinant DNA processes and molecular computation. Jonoska's research was supported by NIH and NSF, and in 2014, she was elected as Fellow of AAAS and awarded with the Pascal Professorship at the University of Leiden. She and a co-author from University of Milano-Bicocca in Italy solved a long standing open problem about the characterization of a set of sequences obtained as a result of splicing, a theoretical model for describing actions of endonuclease enzymes on DNA sequences. Additionally, Jonoska and two co-authors obtained the best paper award at the Unconventional Computing and Natural Computing Conference in 2014 for their paper characterizing certain crystallographic structures.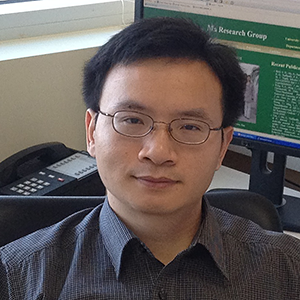 Shengqian Ma, Ph.D.
Associate Professor, Chemistry
College of Arts and Sciences

Ma received several prestigious awards in 2014, including an NSF-CAREER award entitled, CAREER: Development of Mesoporous Metal-Organic Frameworks as a New Type of Platform for Enzyme Immobilization ($575,000, five years) as well as a Department of Energy grant entitled, Functionalized Porous Organic Polymers as Uranium Nano-Traps for Efficient Recovery of Uranium from Seawater ($399,000, three years).

In addition to funding, Ma's research relating to mercury remediation was published in Nature Communications, along with eleven additional peer reviewed articles published in very high-impact journals. In 2014, Thomson Reuters listed him as one of the most Highly Cited Researchers, and also as one of the World's Most Influential Scientific Minds.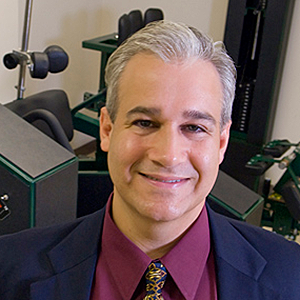 John Mayer, DC, Ph.D., Professor
Physical Therapy & Rehabilitation Sciences
Morsani College of Medicine

Mayer's research efforts are aimed at developing and assessing the effectiveness of targeted exercise approaches for the back and core muscles to reduce risk of back injury and improve resilience in high risk occupations, such as emergency responders and military personnel.

In 2014, Mayer was awarded $1.3 million in research funding from FEMA, making it the largest single commitment from FEMA's Assistance of Firefighters Grants, Fire Prevention and Safety research program specifically aimed at interventions for back injury prevention. He was appointed as Scientific Secretariat for the Global Spine Care Initiative as well as a member of the Firefighter Health Research Alliance. Additionally, Mayer was the recipient of the George B. McClelland Researcher of the Year Award from the American Chiropractic Association.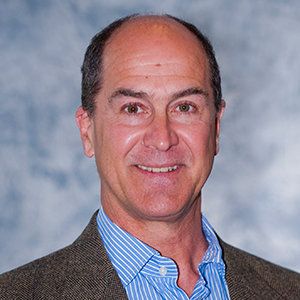 Frank Muller-Karger, Ph.D., Professor
Biological Oceanography & Remote Sensing
College of Marine Science

Muller-Karger is a biological oceanographer who uses satellite remote sensing data. Muller-Karger has an H-Index of 58, and his group published nine articles in 2014. Muller-Karger employs and supports 15 people: seven students (two MS, five PhD), five postdocs, a systems engineer, a programmer, and an outreach coordinator from his ten active NSF, NASA, NOAA, and EPA grants. His grants have consistently totaled more than $1.1 million per year for over a decade. He values diversity in our university, and in 2014, Muller-Karger, along with others at the College of Engineering, obtained a five-year Sloan Grant to assist underrepresented minority students obtain a PhD in STEM fields. He is also continuously engaged in international programs and hosted three foreign scholars in 2014.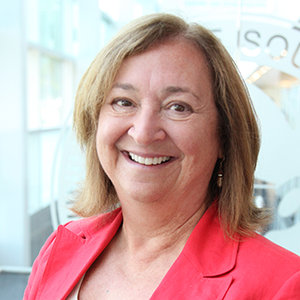 Cindy L. Munro, Ph.D., RN, ANP-BC, FAANP,
FAAN, FAAAS, Professor
Associate Dean of Research and Innovation
College of Nursing

Munro's research focuses on improving outcomes for critically ill adults, particularly in reducing risk of ventilator-associated pneumonia (VAP) and other important patient safety issues. Some of her 2014 research has been continuously supported since 2002 by NIH grants. Her most recently funded competing renewal, in 2014, received an impact score of 10 (the best possible score) and a first percentile ranking (the best possible percentile). In 2014, she was elected as a USF Chapter Member of the National Academy of Inventors, was selected as an inaugural Ambassador for the Friends of the National Institute of Nursing Research, and was honored by the American Association of Critical Care Nurses as the annual Distinguished Research Lecturer. In addition, she was a Maggie Award winner in 2014 for Best Signed Editorial or Essay/Trade by the Western Publication Association.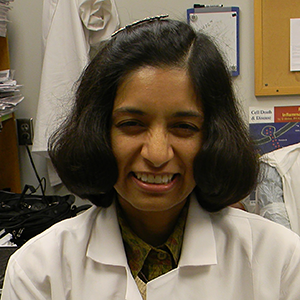 Meera Nanjundan, Ph.D., Associate Professor
Cell Biology, Microbiology and Molecular Biology
College of Arts and Sciences

Nanjundan studies the role of autophagy in endometriosis and ovarian cancer and the role of MiRNA in Renal Cancer. Her primary appointment is in the Department of Cell Biology, Microbiology and Molecular Biology with a secondary appointment in the Department of Obstetrics and Gynecology. In 2014, she had active grants from National Cancer Institute (NCI), National Institute of Child Health Development (NICHD), Marsha Rivkin Center for Ovarian Cancer Research, and the Braverman/Rudnick Family Grant in Ovarian Cancer Research, totaling $871,937. Additionally in 2014, three papers were published or accepted for publication with Nanjundan as senior author and one provisional patent was filed on endometriosis research. She also mentored one post-doctoral fellow, 17 PhD students, two Masters of Science students, and nine undergraduate students in the CMMB Cell and Molecular program and the Moffitt Cancer Biology PhD program in 2014, mentoring three of those students as their Major Professor.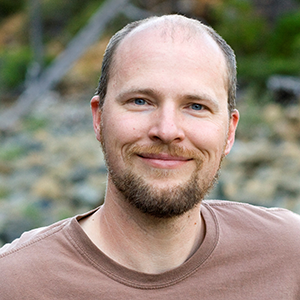 Matthew Pasek, Ph.D.
Associate Professor, School of Geosciences
College of Arts and Sciences

Matthew Pasek is known by his students as "Dr. P." It's a good name for him, as his work covers the element phosphorus in all its forms in the environment. In 2014, Pasek received his third NASA exobiology grant researching the role of phosphorus in the origin of life, along with collaborative funding from the NSF Center for Chemical Evolution and Yale University. Additionally, he received NASA's Early Career Fellowship Award, which provides funding to start projects in space science. He was recognized by the Origins of Life community for his work in phosphorus chemistry, becoming the third Miller Early Career Fellow recipient of the International Society for the Study of the Origin of Life (ISSOL). His 2014 scholarly works include five journal articles, one of which was published in Proceedings of the National Academy of Sciences, as well as one book chapter and one article in the scientific press.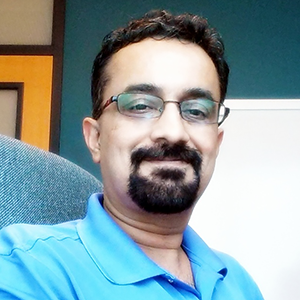 Hariharan Srikanth, Ph.D.
Professor, Physics
College of Arts and Sciences

Srikanth directed the Functional Materials Laboratory at the USF Physics department in 2014 with research supported by continuing grants from the Department of Energy and Army (TATRC). In calendar year 2014, his group consisted of seven PhD students and two postdoctoral researchers. His research in the area of nanostructured magnetic materials has been recognized worldwide with several invited talks at major professional conferences and high quality journal publications in 2014.

He was inducted as a Fellow of the American Physical Society in 2014 and also accepted an appointment as associate editor for the Journal of Applied Physics, which is considered a premier journal in physics.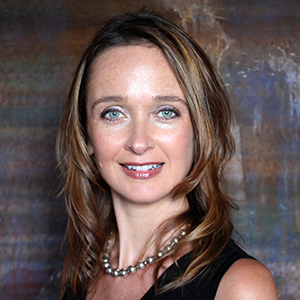 Camilla Vasquez, Ph.D.
Associate Professor, World Languages
College of Arts and Sciences

Vasquez specializes in the analysis of internet language. Her scholarly monograph, The Discourse of Online Consumer Reviews, published by Bloomsbury Press in 2014, examines the linguistic features of user-generated reviews on sites like TripAdvisor, Amazon and Yelp. As evidence of the larger impact of her work, Vasquez's book was featured prominently in a recent story published in the New York Times, and has been cited in several other media outlets as well.

In 2014, she was invited to speak about her book at Georgetown University, Oregon State University, and the University of Florida. Additionally, Vasquez published three articles in peer-reviewed journals in 2014, co-authored with doctoral students.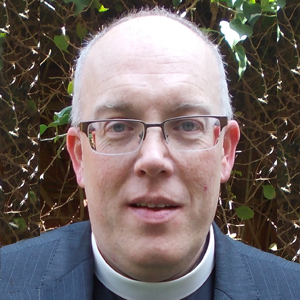 Thomas Williams, Ph.D.
Professor, Philosophy
College of Arts and Sciences

Williams' research focuses on medieval philosophy and theology and the philosophy of religion. Williams received a large 2014-2015 grant from the National Endowment for the Humanities for John Duns Scotus: Readings in Ethics.

Additionally, Williams won the American Philosophical Association's Edinburgh Fellowship, which enabled him to be in residence at the Institute for Advanced Studies in the Humanities at the University of Edinburgh during Fall 2014; he was also awarded a visiting fellowship in the Centre for Ethics, Philosophy, and Public Affairs at the University of St. Andrews in 2014 for a Spring 2015 residency at the Centre.
"These impressive awards acknowledge the valuable innovation and entrepreneurship taking place throughout the USF System," said Sanberg. "Our faculty members are essential to the university's success."
##
The University of South Florida is a high-impact, global research university dedicated to student success. USF is a Top 50 research university among both public and private institutions nationwide in total research expenditures, according to the National Science Foundation. Serving nearly 48,000 students, the USF System has an annual budget of $1.5 billion and an annual economic impact of $4.4 billion. USF is a member of the American Athletic Conference.. www.usf.edu
###
Media Contact:
Judy Lowry
jhlowry@usf.edu
813-974-3181