The American Institute for Medical and Biological Engineering Fellows comprise the top 2% of medical and biological engineers in the nation.
TAMPA, Fla. – Four University of South Florida professors have been elected to the 2016 College of Fellows of the American Institute for Medical and Biological Engineering (AIMBE): Cesario Borlongan and Shyam Mohapatra from the USF Morsani College of Medicine, USF Health; and Robert Frisina, Jr., and Sudeep Sarkar from the USF College of Engineering.
"We are extremely proud to have four members of our faculty recognized at the highest level of their profession for their contributions to innovation and research and the advancement of healthcare practices and policies," said Paul R. Sanberg, senior vice president for research, innovation and economic development and Distinguished University Professor of neuroscience, biomedical engineering and business.
The AIMBE College of Fellows comprises the top two percent of medical and biological engineers in the country and includes distinguished scientists and researchers, clinicians, engineering and medical school chairs, research directors, professors, innovators, and successful entrepreneurs. Fellows are regularly recognized for their substantial contributions in teaching, research, and innovation.
"These individuals are world-leaders in their disciplines who have devoted extraordinary efforts to improving quality of life. They honor USF by their achievements, and we in turn are privileged to celebrate their success," said Sanberg, who is also an AIMBE Fellow.
AIMBE fellows have been awarded the Presidential Medal of Science and the Presidential Medal of Technology and Innovation and many fellows also are members of the National Academy of Sciences, National Academy of Engineering, National Academy of Medicine and National Academy of Inventors. The new fellows were nominated, reviewed and elected by peers and members of the College of Fellows. The formal induction ceremony for the AIMBE Class of 2016 will occur on Apr. 4, 2016, at the National Academy of Sciences in Washington, DC.
The four inductees from USF are: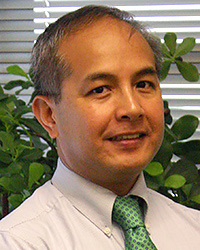 Cesario V. Borlongan, M.A., Ph.D., Distinguished Professor of neurosurgery and brain repair and director of the Center of Excellence for Aging & Brain Repair in the Morsani College of Medicine, USF Health. He was elected for "outstanding contributions and international leadership in the advancement of experimental therapies for neurological disorders, especially stroke stem-cell therapy." Borlongan is considered a world leader in stem cell therapy for stroke. His translational "bench to clinic" research has led to five FDA-approved clinical trials of cell transplantation, including the world's first cell therapy in stroke patients. Recently a team led by Borlongan offered a new concept for how transplanted stem cells help prod the brain's own repair mechanism following traumatic brain injury. Based in part on this preclinical study, the U.S. Food and Drug Administration approved a limited clinical trial to transplant an adult stem cell therapy in patients with traumatic brain injury. He is a fellow of the American Association for the Advancement of Science (AAAS).
---
Robert D. Frisina, Ph.D., professor and director, Department of Chemical & Biomedical Engineering in the USF College of Engineering. He was elected for "outstanding contributions and leadership in discovering causes of age-related hearing loss and developing innovative pathways for detection and treatment." Frisina is considered a pioneering and world-class neuroengineer specializing in biomedical engineering whose research has uncovered connections between age-dependent conditions and age-related hearing loss, as a result of the largest NIH-funded research program on age-related hearing loss (principal investigator, NIH program project grant since 1991). He and his colleagues also identified a genetic biomarker for age-related hearing loss in a nine-year study in a collaboration between USF and the National Technical Institute for the Deaf at the Rochester Institute of Technology—one of only two colleges for the deaf in the world—and have begun a Phase II clinical trial to test a new drug for treatment of age-related hearing loss, the only drug in this therapeutic area to make it to the FDA Phase II. Frisina holds five U.S. patents and one foreign patent.
---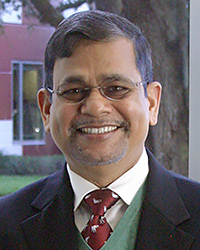 Shyam Mohapatra, M.S., Ph.D., MBA, FAAAAI, FNAI, Distinguished Professor in the Departments of Internal Medicine, Pharmaceutical Science, Molecular Medicine, Pediatrics, and Environmental & Occupational; vice chair of research in the Department of Internal Medicine, director of the USF Nanomedicine Research Center and of the Division of Translational Medicine, Department of Internal Medicine, Morsani College of Medicine; associate dean for graduate programs, College of Pharmacy, USF Health; member of the USF Institute of Advanced Discovery & Innovation; and principal investigator and research career scientist in research and development at the James A. Haley VA Hospital. He was elected for "outstanding contributions in the field of biomedical nanotechnology and leadership in translational nanomedicine." A trail-blazing scientist, researcher, and educator, Mohapatra directs the USF Center for Research and Education in Nanobioengineering. He is recognized for his many inventions in the field of nanoscale biomedical diagnostics and therapeutics in asthma, cancers, viral infections, traumatic brain injury. He has created a highly innovative and cutting-edge graduate program in pharmaceutical nanotechnology. Mohapatra co-founded TransGenex Nanobiotech Inc., which specializes in manufacturing these nanoscale products and is currently involved in commercializing products for 3D cancer cell culture technology and services for anti-cancer drug discovery and personalized cancer treatment. Mohapatra's research has brought USF over $20 million in extramural funds and includes inventions that have spun out companies. He has published more than 160 papers including several papers in journals such as Science, Nature, Medicine, and Journal of Clinical Investigations, and holds 30 patents for his work to date. He is a Fellow of the National Academy of Inventors and an inductee of the Florida Inventors Hall of Fame.
---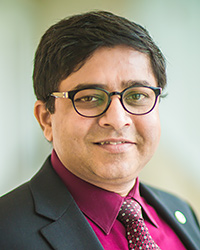 Sudeep Sarkar, Ph.D., associate vice president for research and innovation and professor of computer science and engineering in the College of Engineering. Sarkar was elected "for distinguished contributions to the field of gait biometrics and burn scar analysis." He has more than 25 years of experience conducting and directing fundamental and applied research in computer vision, image processing, and pattern recognition related topic. He is considered the world leader in gait biometrics and is frequently called upon to participate in world meetings regarding this topic. The benchmark developed by him is the defacto standard in the development of gait recognition algorithms. His research topics range from video image processing to biometrics, and medical image analysis of burn scars. He holds three U.S. patents, has published high-impact journal and conference papers and is a fellow of the AAAS.
---
##
The American Institute for Medical and Biological Engineering's mission is to recognize excellence in, and advocate for, the fields of medical and biological engineering in order to advance society. Since 1991, AIMBE's College of Fellows has lead the way for technological growth and advancement in the fields of medical and biological engineering. Fellows have helped revolutionize medicine and related fields in order to enhance and extend the lives of people all over the world. They have also successfully advocated for public policies that have enabled researchers and business-makers to further the interests of engineers, teachers, scientists, clinical practitioners, and ultimately, patients. For questions regarding the College of Fellows and AIMBE, contact Jason Hibner, Director of Member Services and Operations, American Institute for Medical and Biological Engineering (AIMBE), 1701 K Street NW, Suite 510, Washington, DC 20006, 202‐496‐9660 or jhibner@aimbe.org. AIMBE: Providing leadership & advocacy in medical and biological engineering for the benefit of society. www.aimbe.org
The University of South Florida is a high-impact, global research university dedicated to student success. USF is a Top 50 research university among both public and private institutions nationwide in total research expenditures, according to the National Science Foundation. Serving nearly 48,000 students, the USF System has an annual budget of $1.5 billion and an annual economic impact of $4.4 billion. USF is a member of the American Athletic Conference.
-USF-
Media Contact:
Judy Lowry
jhlowry@usf.edu
813-974-3181