By helping turn faculty research into commercial products, the I-Corp teams are key for economic development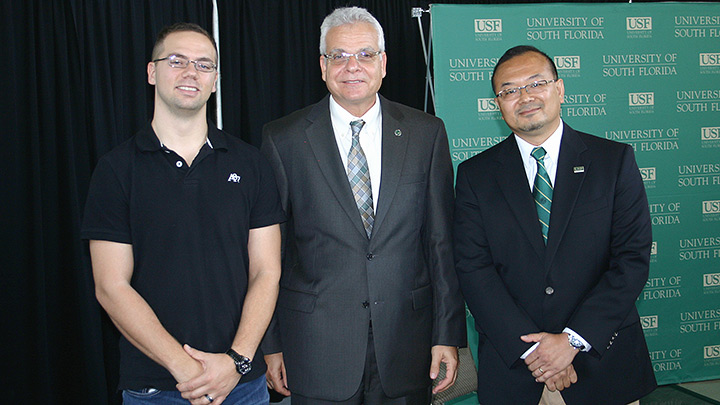 Ismet Handžić, Paul Sanberg, and Daniel Yeh
TAMPA, Fla. – With seven teams selected for the National Science Foundation's Innovation Corps (I-Corps) program in 2015, the University of South Florida ranked first in Florida and third among all universities nationwide. No other university in Florida had more than two teams.
The I-Corps program guides academic researchers through the process of transitioning their work out of the laboratory into commercially feasible products that benefit society.
I-Corps teams each receive a $50,000 grant to participate in a curriculum designed to provide immersive learning and help them identify more product opportunities. By the end of the six-month program, team companies should have a clear indication of the commercial feasibility of their product and the knowledge required to move it forward.
"Student success, global and community engagement, research and innovation, institutional strength, and economic impact are pillars of the University of South Florida," said Judy Genshaft, president of the USF System. "Our involvement in such economic initiatives as the NSF I-Corps Teams program strengthens our position as a leading global research university in the translation of research into health and economic benefits."
Nationwide in 2015, NSF named 199 I-Corps teams from 104 universities. Teams are typically composed of a principal investigator who serves as technical lead and project manager, an entrepreneurial lead who is usually a postdoctoral researcher or graduate student with the technical knowledge and commitment to the commercialization of the innovation, and a mentor with entrepreneurial experience.
USF's I-Corps teams include a diverse range of technologies, from water remediation to cell culture technology.
"The I-Corps program is part of USF's continuing efforts in economic development and start up creation," said Paul R. Sanberg, USF's senior vice president for research, innovation and economic development.
USF is an Innovation & Economic Prosperity University, designated by the Association of Public and Land-grant Universities in recognition of the university's commitment to economic engagement.
USF was also selected last year as an I-Corps Site by NSF to build, train, and mentor I-Corps teams. A six-week training program, launched in January, is providing teams with real-world, hands-on experience on how to transfer knowledge successfully into products and processes.
The other institutions rounding out the top five nationally include the University of Michigan, Georgia Tech Research Consortium, the University of California, San Diego and Texas A&M.
USF I-Corps Teams
Pathways to Market for ICARUS Algae Cultivation and Harvesting Technology
Principal Investigator: Daniel Yeh, Associate Professor, Civil and Environmental Engineering
Entrepreneurial Lead: Ivy Drexler, postdoctoral researcher
Mentors: Jose Zayas-Castro, Associate Dean for Research, College of Engineering and Glenn Whichard, USF Technology Transfer Office, Patents & Licensing
Novel Rapid Non-destructive Cell Culture Platform
Principal Investigators: Nathan Gallant, Associate Professor, Mechanical Engineering and Ryan Toomey, Associate Professor, Chemical & Biomedical Engineering
Entrepreneurial Lead: Michael Cross, graduate student
Mentor: Alina Ruta, Director Production at Co. Confidential
Clean Water by Nature
Principal Investigator: Norma Alcantar, Associate Professor, Chemical & Biomedical Engineering
Entrepreneurial Lead: Tunan Peng, graduate student
Mentor: Glenn Whichard, USF Technology Transfer Office, Patents & Licensing
Travel Assistant Device (TAD)
Principal Investigator: Miguel Labrador, Professor, Computer Science & Engineering
Entrepreneurial Lead: Nevine Georggi, doctoral student, Civil and Environmental Engineering
Mentor: Matt Daniels, MLD Consulting
Portable Autonomous Biomarker Sampling Technology (PABST)
Principal Investigator: David Fries, Research Faculty, Marine Science
Entrepreneurial Lead: Scot Connor, graduate student, Bioinformatics
Mentor: Anette Smith-Dohring, Sutter Health
Mini Notched Turbine (MiNT)
Principal Investigator: Sylvia Thomas, Assistant Professor, Electrical Engineering
Entrepreneurial Lead: Samuel Perez, graduate student
Mentor: Joe Register, E5 Engineering
Pathways to Market of Piezoelectric Elastomer Composites for Additive Manufacturing of Flexible 3D Conformal Acoustic Emission and Ultrasonic Transducer Arrays
Principal Investigator: Jing Wang, Associate Professor, Electrical Engineering
Entrepreneurial Lead: Xu Han, graduate student
Mentor: Ron Stein, FastPath Marketing
The University of South Florida is a high-impact, global research university dedicated to student success. USF is a Top 25 research university among public institutions nationwide in total research expenditures, according to the National Science Foundation. Serving over 48,000 students, the USF System has an annual budget of $1.6 billion and an annual economic impact of $4.4 billion. USF is a member of the American Athletic Conference. www.usf.edu
Media Contact:Lauren Golin, 813-974-0102, lgolin@usf.edu