Other winners included a navigating tee-shirt for the blind and a basketball jump shot training device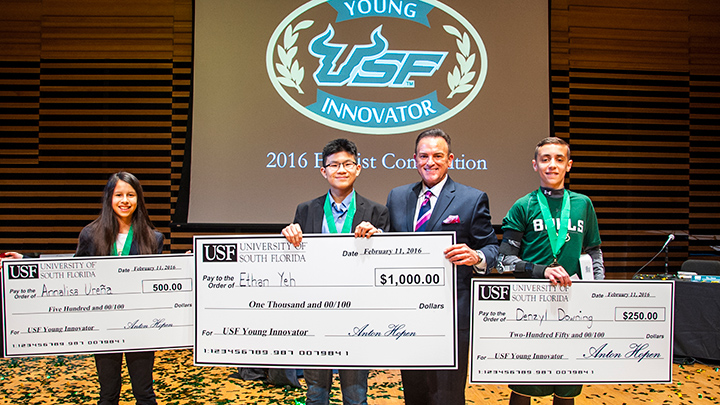 Annalisa Urena, Ethan Yeh, Bill Green and Denzyl Downing (Photo: Aimee Blodgett, USF News)
TAMPA, Fla. – Ethan Yeh, an eighth grade student at Tampa Preparatory School, was the grand prize winner at the USF Young Innovator Competition, held Feb. 11, 2016, at the University of South Florida. Yeh's invention, the "K-Cup Garden," uses discarded single-serving coffee brewing pods to grow herbs and other plants.
Annalisa Urena, a fifth grade student from Family of Christ School, was first runner up with her tee-shirt, called the "Eye T," which uses electronic signals to help guide visually impaired wearers as they walk. Denzyl Downing, an eighth grade student from Academy at the Lakes, was selected as the second runner up for his invention the "Perfect Shot," an arm brace that helps basketball players perfect their jump shot technique.
Carter Brink, a sixth grade student from Academy at the Lakes, won the Top Trademark Award for his invention, the "Spauce Boss," a spoon that dissolves in boiling water to create a spiced sauce. Blooming Brands, the parent company for Outback Steakhouse, Carrabba's Italian Grill, Bonefish Grill and Flemings Prime Steakhouse, presents the award each year to the finalist with the best invention branding.
The competition, which is held each year on Thomas Edison's birthday, is a partnership between USF, the Museum of Science and Industry (MOSI) and Home Shopping Network (HSN) to celebrate innovation and entrepreneurship in young students. It was founded and is led by Tampa patent attorney Anton Hopen who also serves as the current president of the USF Chapter of the National Academy of Inventors (NAI).
The ten finalists were chosen by members of USF's NAI Chapter out of more than 700 entries submitted by K-8 grade students from across the Tampa Bay area. The finalists pitched their inventions before a panel of experts, including HSN television host Bill Green, USF Senior Vice President for Research, Innovation & Economic Development Paul Sanberg and successful entrepreneurs.
A talent team at HSN coached the top ten finalists in presentation skills and public speaking prior to the competition at the HSN studios in St. Petersburg.
"I cannot stop using the word 'brilliant' to describe your inventions," said finalist judge Green.
As the grand prize winner, Yeh received a $1,000 cash prize. The first and second runners-up received $500 and $250, respectively. Each winner's school received a matching cash prize to support innovation programs at the school. All participants received special awards including free admission to MOSI and the ten finalists received additional prizes, including annual family passes to MOSI and special gifts from HSN.
"These children not only have come up with creative inventions, but they have learned to convey the value of these ideas like an HSN television host selling a new product," said Hopen. "This competition is unique in that we blend science and engineering with business."
Several past finalists have commercialized their inventions and secured patents, and 2011 grand prize winner Marissa Streng demonstrated her invention, the "Puff-n-Fluff," on The Tonight Show starring Jimmy Fallon.
Media Contact: Anton Hopen, 813-925-8505, info@innovationexpress.org