ICARUS, AbleNook and PikMyKid advance in innovation competition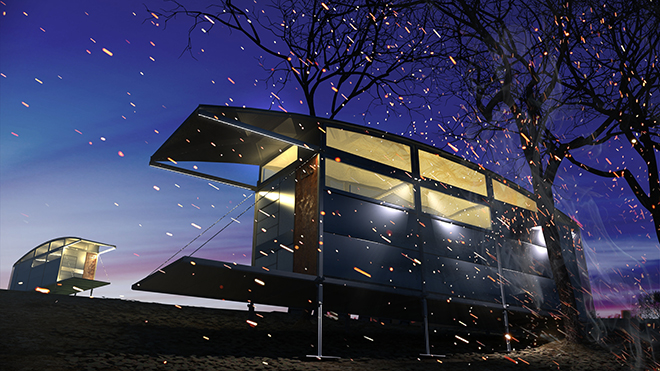 AbleNook module dwelling (Photo: Sean Verdecia)
TAMPA, Fla. – Two USF technologies and one USF Student Innovation Incubator graduate company have been selected as finalists for the 7th Annual $50,000 Cade Museum Prize for Innovation. Daniel Yeh, Sean Verdecia and Saravana Bhava were selected out of over 100 entries from around the state as "Sweet 16" finalists and will be honored at a reception on Mar. 16, 2016, at the Cade Museum in Gainesville.
Daniel Yeh, Ph.D., associate professor of civil and environmental engineering in the USF College of Engineering, developed ICARUS, a system that promotes algae biomass production from wastewater, reducing anthropogenic discharges of nutrients into receiving waters while converting waste products into algae biomass. Yeh and his team received the Cade Prize in 2014 for his NEWgenerator technology that creates clean water and energy from waste products. The NEWgenerator technology is currently undergoing a year-long field test in India.
Sean Verdecia, a graduate of the USF School of Architecture and Community Design, developed AbleNook, prefabricated living modules that snap together and are easily assembled, transported, and adaptable to diverse terrain. The AbleNook modules can be deployed to house victims of natural disasters, among other uses.
Saravana Pat Bhava, a graduate of USF's Student Innovation Incubator program, developed PikMyKid, a mobile app based student management and communication system that makes school dismissal smarter, safer, and cheaper. Bhava is founder and CEO of PikMyKid.
The "Final Four" semi-finalists will be named on Mar. 28, 2016, and will make live presentations to a panel of judges on Apr. 30, 2016. The winner will be announced that same evening at the 2nd Annual Inventivity Bash, presented by RTI Surgical, at Santa Fe College Fine Arts Hall in Gainesville.
The Cade Museum Prize competition rewards innovation and invention from entrepreneurs, innovators and inventors in the State of Florida. The prize includes a $50,000 award and in-kind incentives to academics, entrepreneurs and proof-of-concept or early-stage companies for advancing creative ideas into the marketplace. Judges look at how creative and innovative the idea is, what demonstrable impact the invention will make, and how far away the invention is from being a commercially viable product or service.
About the Cade Museum
In 2004, Dr. James Robert Cade and his family established the Cade Museum Foundation to design and build a museum in Gainesville in order to inspire creative thinking, future inventors, and early entrepreneurs. A physician at the University of Florida, Cade was best known as the leader of the research team that invented Gatorade for the UF football team in 1965. Cade was inducted into the Florida Inventors Hall of Fame in 2014.
##
The University of South Florida is a high-impact, global research university dedicated to student success. USF is a Top 25 research university among public institutions nationwide in total research expenditures, according to the National Science Foundation. Serving over 48,000 students, the USF System has an annual budget of $1.6 billion and an annual economic impact of $4.4 billion. USF is a member of the American Athletic Conference.
Media contact: Lauren Golin, 813-974-0102, lgolin@usf.edu