2016 class of inductees also includes Nobel Laureate and NASA environmental engineer
TAMPA, Fla. – Yogi Goswami, Distinguished University Professor of chemical engineering and director of the Clean Energy Research Center at the University of South Florida, is among the seven inventors announced today as the 2016 inductees of the Florida Inventors Hall of Fame (www.FloridaInvents.org).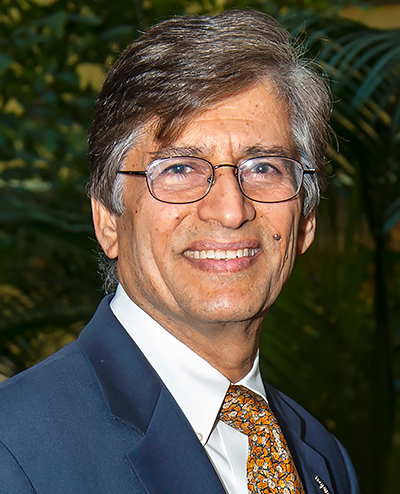 Goswami, who holds 16 U.S. patents, is being recognized for his pioneering contributions and technology development related to solar energy and indoor air quality. His inventions in photocatalytic detoxification and disinfection have been commercialized and are available worldwide. His contributions in combined power/cooling cycles have impacted global research in a new class of thermodynamic cycles to improve the efficiency of solar and other thermal power plants.
Goswami has invented nano-scale antenna technologies to convert sunlight to power and thermal energy storage technologies. He also founded Transformair, Inc., which is commercializing his technology to destroy indoor air pollutants including viruses, bacteria, mold, airborne fumes and allergens to help allergy and asthma sufferers.
"It is a great honor to be elected to the Florida Inventors Hall of Fame," said Goswami. "I am happy to see my inventions being used to make a positive impact on our future energy use and improve the quality of life of people around the world by cleaning the air people breath indoors."
He is a Charter Fellow of the National Academy of Inventors (NAI), and fellow of American Association for the Advance of Science (AAAS), among others, and has received the highest awards of many professional societies related to solar energy.
This year's inductees also include Nobel Laureate Andrew Schally (University of Miami and U.S. Department of Veterans Affairs), for his discovery of hypothalamic hormones and subsequent application of their analogues to cancer treatment; Jacqueline Quinn, environmental engineer at Kennedy Space Center, who invented NASA's most licensed and recognized technology for groundwater remediation; Alan Marshall (Florida State University), inventor of Fourier Transform Ion Cyclotron Resonance (FT-ICR) mass spectrometry; Nicholas Muzyczka (University of Florida) for his pivotal invention of the"granddaddy patent" for recombinant adeno associated virus (rAAV) vectors; MJ Soileau (University of Central Florida) for his innovative research in the advancement of high energy laser optics used by the U.S. Department of Defense; and William S. Dalton (M2Gen and Moffitt Cancer Center & Research Institute) for his revolutionizing developments in cancer treatment. Dalton also founded and was chair of the Department of Interdisciplinary Oncology at the University of South Florida.
"The high merit of this year's inductees has been recognized by national and international organizations with many other honors and awards," said Paul R. Sanberg, chair of the Florida Inventors Hall of Fame advisory board. "We are honored to be inducting them into the Hall of Fame." Sanberg is also senior vice president for research, innovation and economic development at the University of South Florida and a 2015 inductee.
Goswami, along with his fellow honorees, will be inducted at the Florida Inventors Hall of Fame 3rd Annual Induction Ceremony & Gala on Sep. 16, 2016, in Tampa.
"We are delighted to be announcing this class of exceptional inventors whose work has greatly impacted Florida and our nation," said Randy Berridge, who serves on the Florida Inventors Hall of Fame advisory board and as chair of its selection committee and is president of the Florida High Tech Corridor Council.
##
The Florida Inventors Hall of Fame (FIHF) recognizes and commends Florida inventors whose achieve¬ments have advanced the quality of life for Floridians, the state and the nation. Founded in 2013 and housed in the USF Research Park in Tampa, FIHF was recognized by Florida Senate Resolution 1756 in April of 2014. FIHF encourages individuals of all ages and backgrounds to strive toward the betterment of Florida and society through continuous, groundbreaking innovation, and, by commending the incredible scientific work being accomplished in the state, to further the growth of Florida's innovation sector. FloridaInvents.org
The University of South Florida is a high-impact, global research university dedicated to student success. USF is a Top 25 research university among public institutions nationwide in total research expenditures, according to the National Science Foundation. Serving over 48,000 students, the USF System has an annual budget of $1.6 billion and an annual economic impact of $4.4 billion. USF is a member of the American Athletic Conference.
Media Contact: Judy Lowry, 813-974-3181, jhlowry@usf.edu