AbleNook LLC selected from over 100 teams statewide to advance to the final round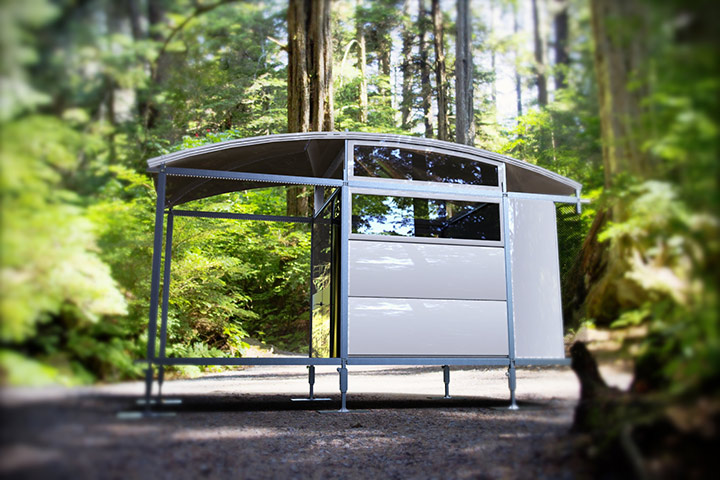 TAMPA, Fla. – USF startup company AbleNook LLC is among the final four companies in the running for the 7th Annual $50,000 Cade Museum Prize for Innovation.
AbleNook, developed by USF School of Architecture and Community Design graduates Sean Verdecia and Jason Ross, provides prefabricated living modules that snap together and are easily assembled, transported, and adaptable to diverse terrain. The AbleNook modules can be deployed to house victims of natural disasters, among other uses, and can be easily expanded for larger space requirements.
"It's quite an honor to be selected in the final four for this prestigious award," said Verdecia. "We feel this is super-encouraging in regards to our long term efforts to provide a dignified solution to disaster relief and housing shortages."
AbleNook was selected from among more than 100 teams that entered this year's competition.
The finalists will make live presentations to a panel of judges on April 30, and the winner will be announced later that evening at the 2nd Annual Inventivity Bash at Santa Fe College Fine Arts Hall in Gainesville.
The Cade Museum Prize competition rewards innovation and invention from early-stage inventors and entrepreneurs in the state of Florida. The prize includes a $50,000 award and in-kind incentives to academics, entrepreneurs and proof-of-concept or early-stage companies for advancing creative ideas into the marketplace.
USF technologies have won the prize twice previously. In 2012, USF's electronic catheter stethoscope technology was chosen as the winner. In 2014, USF's NEWgenerator technology, an invention that turns waste product into fertilizer, renewable energy and clean water won the $50,000 prize.
In 2004, Dr. James Robert Cade and his family established the Cade Museum Foundation to design and build a museum in Gainesville in order to inspire creative thinking, future inventors, and early entrepreneurs. A physician at the University of Florida (UF), Dr. Cade was best known as the leader of the research team that invented Gatorade for the UF football team in 1965. The new Cade Museum is scheduled to open in 2017 in downtown Gainesville.
The University of South Florida is a high-impact, global research university dedicated to student success. USF is a Top 25 research university among public institutions nationwide in total research expenditures, according to the National Science Foundation. Serving over 48,000 students, the USF System has an annual budget of $1.6 billion and an annual economic impact of $4.4 billion. USF is a member of the American Athletic Conference.
-USF-
Media Contact:
Lauren Golin, USF Research News
813-974-0102
lgolin@usf.edu