USF's Student Research Awards celebrates excellence in research
TAMPA, Fla. – The University of South Florida shined the spotlight on student researchers at the 2016 Student Research Awards on Apr. 21, 2016, at USF Research Park on the Tampa campus. Recognized at the luncheon were interns and students supported by the Florida High Tech Corridor Council (The Corridor), undergraduate, including Honors College, and graduate students for their significant contributions and accomplishments in research.
"This event is held each spring to recognize and celebrate excellence in scholarly research by our undergraduate and graduate students, and the accomplishments of our student interns," said Paul R. Sanberg, senior vice president for research, innovation, and economic development.
Students were nominated for their participation in projects supported by the Corridor's Matching Grants Research Program.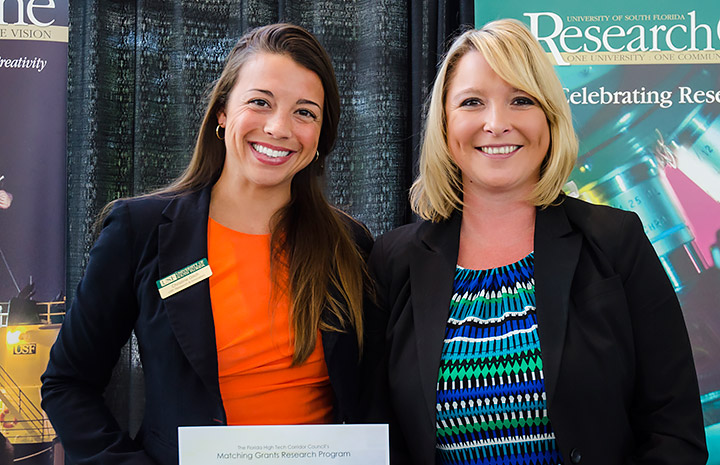 Student Christine Gitch and Stephanie Ashley, director of business incubation (Photo by: Aimee Blodgett).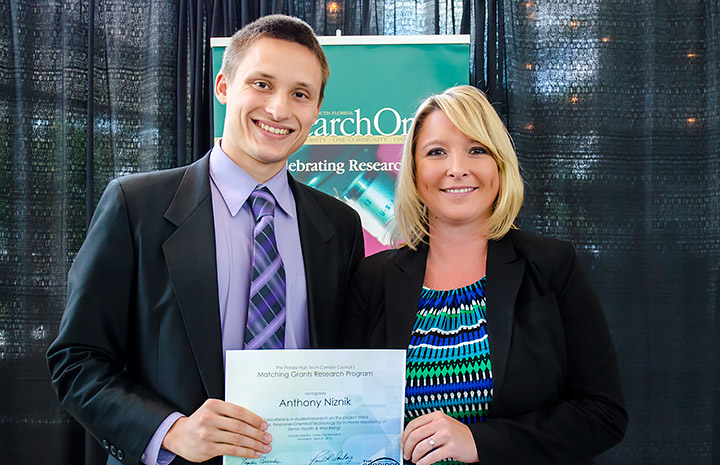 Anthony Niznik, Stephanie Ashley (Photo by: Aimee Blodgett).
Recipients included: Reginals Atkins, Garrick Aden-Buie, Ngozichukwuka Agu, Shahad Al Jandal, Brad Alford, Jit Banerjee, Michael Cheung, James Conrad, Daniel Corral, Daniell Dantuma, Mahasweta Das, Mark Di Sano, Vahid Rasouli Disfani, Rania Elmadawi, Hossein Ghassempour, Christine Gitch, Elaina Graham, Ryan Green, Ismet Handžić, Mark Howell, Ryan Kent, Javad Khazaei, Di Lan, Yan Ma, Juan Marron, Clayton Neff, Patrick Nesbitt, Rhonin Nimbalkar, Paul Nixon, Anthony Niznik, Justin Nussbaum, Jonathon O'Brien, James Olliff, Tim Padawer, Edwin Peguero, Jon Pickering, Lakshan Piyasinghe, Timothy Polk, Chaady Radwan, Ramiro Ramirez, Jeremy Reedy, TJ Ross, Victoria Salow, Vivianna Sampayo, Shawn Sasser, Christopher Stahle, Maki Tabuchi, Matthew Trapuzzano, Eric Tridas, Idalides Vergara, Ayhan Yetisener, Evan Zapf, Ying Zhao, Julie Hammett.
Undergraduate students were nominated for their research and creative activities through projects from all disciplines and academic colleges.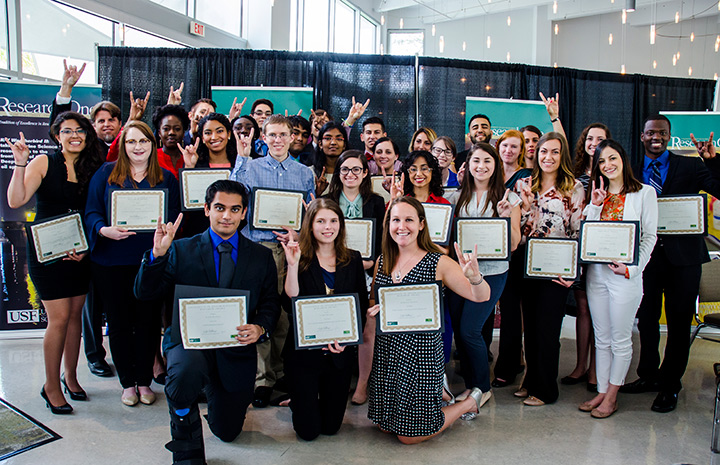 Undergraduate Research Awards recipients (Photo by: Aimee Blodgett).
Recipients of the Undergraduate Research Awards included:
OUR Excellence in Research Awards: Mary Alao, Olivia Amorose, Abigail Bridges, Rachel Broadwater, Girgis Fahmy, Ryan Fay, Raaven Goffe, Dawn Grayford, Skylar Guilder, Nancy Habib, Giselle Irio, Matthew Kastelic, Thomas Licata, Paola Mancera, Alauna Martinez, Mark Noble, Heather Palmer, Stephanie Radu, Sanim Rahman, Carrie Robart, Jorge Rojas, Raquel Rosales, Daniel Schadrac, Enakshi Sunassee, Corey Valdez, McKenzie Watson, and Juan Zapata.
Group Award – Behavioral Sciences: Yasmin Alawi Martins, Beatrice Brodsky, and Ariana Schwark.
Group Award – Behavioral Sciences: Freeman Gerhardt, Karie John, Victoria Marino, Jasmine Ortiz, and Ali Sigimundi.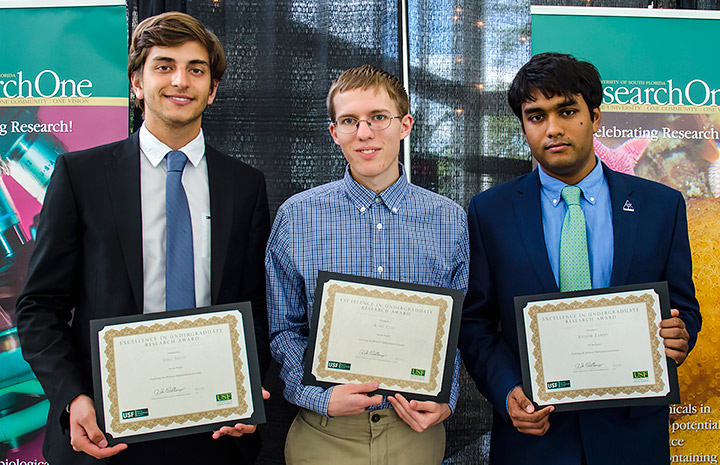 Luiz Setti, Ryan Cox, Raquib Zaman (Photo by: Aimee Blodgett).
Group Award – Humanities: Ryan Cox, Luiz Setti, and Raquib Zaman.
Best Use of the Research Literature - Library Resources Award: Amanda Kerstman.
Excellence in History Research Awards: Charles Harris, Krista Williams.
"The awardees were selected from more than 450 undergraduate students who presented their research at the Undergraduate Research and Arts Colloquium on April 6, 2016," said Richard Pollenz, director, Office for Undergraduate Research. "Over 25% of the students that presented projects are in their first or second year at USF, showing the high level of early engagement in research that is one of USF's strategic priorities. This is a big deal."
The Honors College Student Awards encourage students to experience significant and rewarding research opportunities that make use of USF's resources as a Top-50 Research Institution.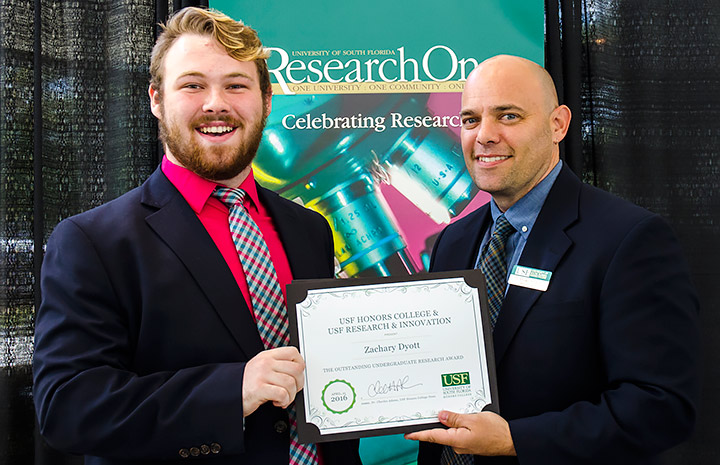 Student Zachary Dyott and Shawn Bingham, assistant dean of the Honors College (Photo by: Aimee Blodgett).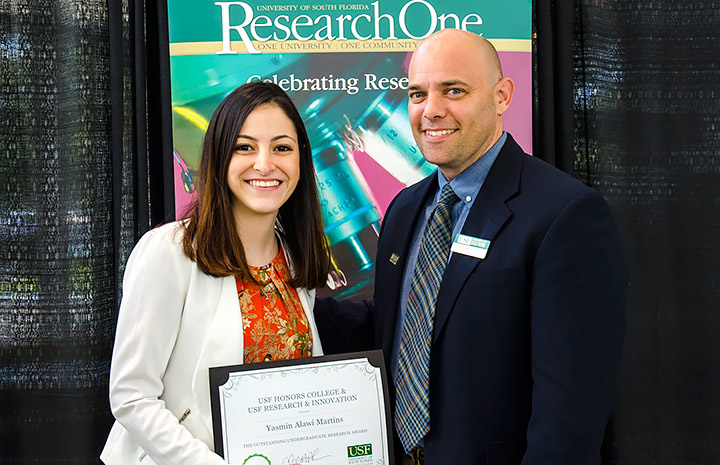 Yasmin Alawi Martins, Shawn Bingham (Photo by: Aimee Blodgett).
Recipients of the Honors College Student Awards, grouped by project, include: Anthony Niznik; Kimberly Weikel and Rachel Llewellyn; Melissa Gentry; Kyra Senchyshak; Zachary Dyott; Yasmin Alawi Martins, Beatrice Brodsky, and Ariana Schwark; Rachel Fanti; Francisco Pascual, Himesh Patel, and Christopher Khalil.
"The whole Honors College community is so proud of these remarkable students," said Charles Adams, dean of the Honors College. "Their creativity, hard work, and commitment to excellence are a constant inspiration to us all."
The Office of Graduate Studies and the Graduate and Professional Student Council (GPSC) hosted their annual Graduate Research Symposium on March 28, 2016, to showcase the research of graduate students in all disciplines and allow them to obtain feedback from faculty and peers. The event brought together graduate students and post-doctoral scholars as well as faculty mentors and judges to foster further academic collaboration. The winners of this event received graduate awards at the luncheon, and moved on to the Statewide Research Symposium held at the University of Florida on Apr. 22, 2016, to represent USF and compete with graduate student researchers from other Florida universities.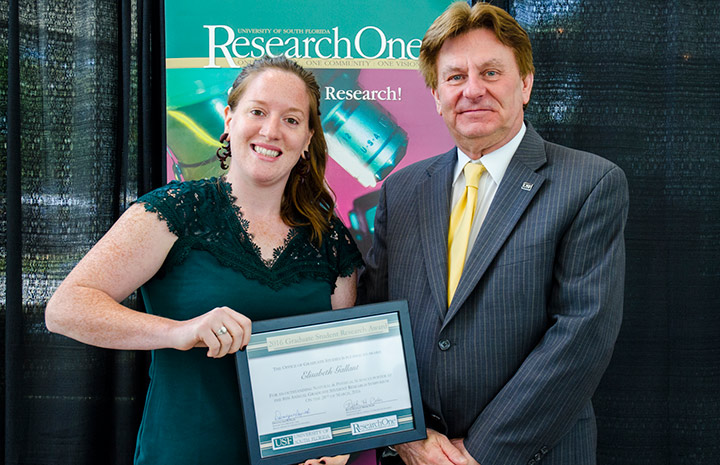 Student Elisabeth Gallant and Dwayne Smith, senior vice provost & dean, Graduate Studies (Photo by: Aimee Blodgett).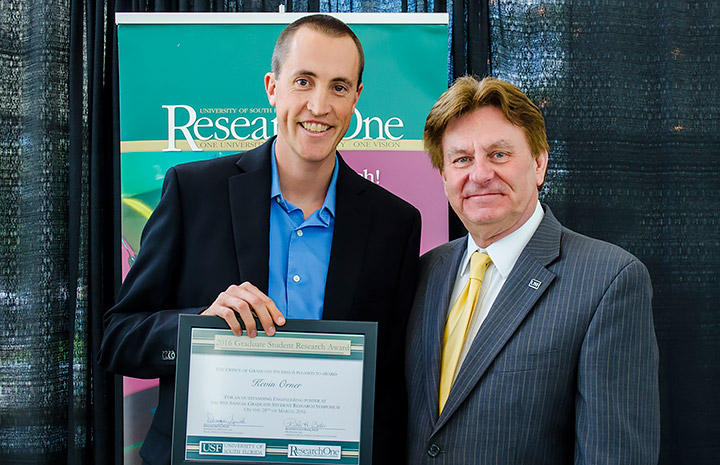 Kevin Orner. Dwayne Smith (Photo by: Aimee Blodgett).
Recipients of the Graduate Student Research Symposium Award:
Research Poster Awards: Savannah Dalrymple, Elisabeth Gallant, Kaeleen Kosmo, Mustafa Mashali, Bryon Miller, Lesley Noel, Kevin Orner, Orhan Simsek, Tracy Torrance, Andy Weiss, Lindsay Womack, and Jeanine Yacoub.
Inaugural 3MT® Awards: Simon Bello (1st Place), Elan Pavlinich (Runner-up), and Parveen Bazard (People's Choice Award).
"This year, we provided two different mechanisms by which graduate students could showcase their work," said Ruth Bahr, assistant dean, Office of Graduate Studies. "Eleven brave students summarized their research efforts in three minutes during our 3MT®event, and 135 students presented their work through posters. The event was an impressive demonstration of our research creativity."
##
The University of South Florida is a high-impact, global research university dedicated to student success. USF is a Top 25 research university among public institutions nationwide in total research expenditures, according to the National Science Foundation. Serving over 48,000 students, the USF System has an annual budget of $1.6 billion and an annual economic impact of $4.4 billion. USF is a member of the American Athletic Conference.
-USF-
Media Contact:
Judy Lowry
(813) 974-3181
jhlowry@usf.edu