AbleNook earns the audience vote at the 7th annual competition
TAMPA, Fla. – A University of South Florida modular dwelling technology won the People's Choice Award Saturday night in Gainesville. AbleNook was developed by USF School of Architecture and Community Design graduates Sean Verdecia and Jason Ross.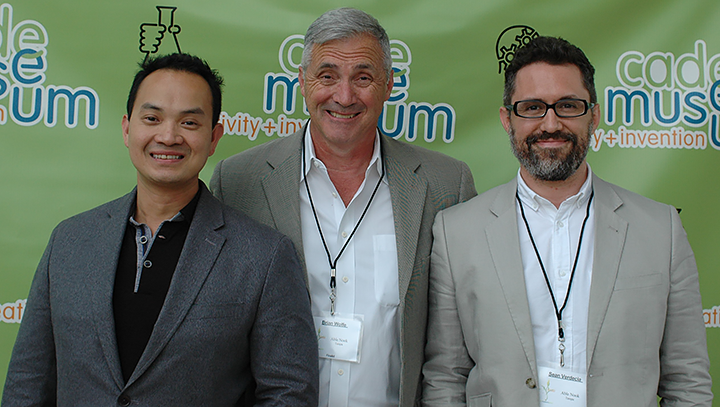 Thai Vo, Brian Wolfe and Sean Verdecia (AbleNook Team)
"We are so honored to have won the People's Choice Award against the other innovative finalists," said Verdecia. "Our technology aims to provide a dignified solution to disaster relief and housing shortages, and having our technology recognized by those in attendance was truly meaningful."
There is no cash prize associated with the People's Choice Award.
Verdecia's invention was one of the "Final Four," that pitched their technologies to a panel of national judges on Apr. 30 at the 2nd Annual Inventivity Bash, sponsored by RTI Surgical.
AbleNook's prefabricated living modules snap together and are easily assembled, transported, and adaptable to diverse terrain. The AbleNook modules can be deployed to house victims of natural disasters, among other uses, and can be easily expanded for larger space requirements.
The AbleNook structure is comprised of interlocking components which can be quickly assembled by unskilled laborers, without tools. These components are shipped flat-packed in order to maximize the amount of units available for distribution and reducing transportation costs — a green benefit.
The Cade Museum Prize competition rewards innovation and invention from entrepreneurs, innovators and inventors in the State of Florida. Judges look at how creative and innovative the idea is, what demonstrable impact the invention will make, and how far away the invention is from being a commercially viable product or service.
USF technologies have won the Cade Museum Prize in the past. In 2014, the $50,000 prize was won by USF's NEWgenerator technology, which turns waste product into fertilizer, renewable energy and clean water and was developed by Daniel Yeh, associate professor of civil and environmental engineering and his team of graduate students. In 2012, USF's electronic catheter stethoscope technology also won the $50,000 prize.
##
The University of South Florida is a high-impact, global research university dedicated to student success. USF is a Top 25 research university among public institutions nationwide in total research expenditures, according to the National Science Foundation. Serving over 48,000 students, the USF System has an annual budget of $1.6 billion and an annual economic impact of $4.4 billion. USF is a member of the American Athletic Conference.
-USF-
Media contact:
Lauren Golin
USF Research News
813-974-0102
lgolin@usf.edu