HSN's Bill Green will host ceremony on Sep. 16
TAMPA, Fla. – U.S. Commissioner for Patents Andrew H. Hirshfeld of the U.S. Patent and Trademark Office will be the keynote speaker as seven inventors are inducted into the Florida Inventors Hall of Fame on the evening of Sep. 16, 2016, at the Hilton Tampa Downtown, during the organization's 3rd annual induction ceremony and gala in Tampa. Well-known Home Shopping Network host Bill Green will serve as master of ceremonies for the event, a role he has performed since the Hall of Fame's inaugural year.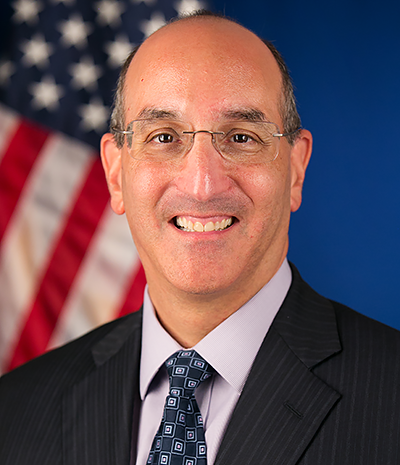 Hirshfeld began his career at the U.S. Patent and Trademark Office (USPTO) in 1994. In 2015, he was appointed Commissioner for Patents. Prior to that, he served as the Deputy Commissioner for Patent Examination Policy and has played a key role in improving patent quality through the implementation of various provisions, including the Leahy-Smith America Invents Act of 2011.
"I am honored to be inducting the 2016 class of inventors," said Hirshfeld. "Innovation advances the quality of life within our communities and throughout our nation, and we value the ongoing efforts of the Florida Inventors Hall of Fame that help recognize and encourage invention in the U.S."
Green, a veteran television presenter, has been on-air at HSN for more than 20 years. Widely acknowledged as one of the most dynamic, energetic and successful on-air hosts for his ability to convey the value of a product to a customer, Green has also been a finalist judge for the USF Young Innovator Competition for the past five years.
The seven inventors to be inducted into the Florida Inventors Hall of Fame include William Dalton, founder & CEO of M2Gen and physician at Moffitt Cancer Center; Yogi Goswami, Distinguished Professor at University of South Florida; Alan Marshall, chief scientist at Florida State University; Nicholas Muzyczka microbiologist at University of Florida; Jacqueline Quinn environmental engineer at NASA Kennedy Space Center; MJ Soileau, vice president for research & commercialization at University of Central Florida; and Nobel Laureate Andrew Schally, University of Miami Distinguished Professor, and Distinguished Medical Research Scientist at the Department of Veterans Affairs.
"Commissioner Hirshfeld's career at the USPTO has been one of advancing and promoting American innovation. We are honored that he will be in Tampa to induct our third class of inventors, and delighted that Bill Green from HSN continues to serve as host for this spectacular event," said Paul R. Sanberg, chair of the Florida Inventors Hall of Fame Advisory Board and senior vice president for research and innovation at the University of South Florida, where the Hall of Fame is located.
The Florida Inventors Hall of Fame Induction Ceremony & Gala is sponsored, in part, by the Florida High Tech Corridor Council, University of South Florida, University of Central Florida, University of Florida, and TECO Energy.
More information, including bios and photos of the 2016 inductees, is at www.FloridaInvents.org.
##
The Florida Inventors Hall of Fame (FIHF) recognizes and commends Florida inventors whose achieve¬ments have advanced the quality of life for Floridians, the state and the nation. Founded in 2013 and housed at the University of South Florida in Tampa, FIHF was recognized by Florida Senate Resolution 1756 in April of 2014. FIHF encourages individuals of all ages and backgrounds to strive toward the betterment of Florida and society through continuous, groundbreaking innovation, and, by commending the incredible scientific work being accomplished in the state, to further the growth of Florida's innovation sector. FloridaInvents.org
###
Media Contact: Holly Behrend, 813-974-1101, hbehrend@usf.edu