The award is presented to faculty members for exceptional achievement in technological innovation and entrepreneurial success
TAMPA, Fla. – Three USF faculty professors received the 2016 Excellence in Innovation Award for exceptional achievement in innovation and research.
Norma Alcantar, Svitlana Garbuzova-Davis, and H. Lee Woodcock were presented with the award, along with a $2,000 check and a plaque of recognition, by USF Provost Ralph Wilcox and Dr. Paul R. Sanberg, senior vice president for research, innovation and economic development and president of the National Academy of Inventors (NAI). The awards were presented as part of the eighth annual meeting and luncheon of the USF Chapter of the National Academy of Inventors, held Oct. 10, 2016, in the USF Research Park on the university's Tampa campus.
"These outstanding inventors represent the commitment of our inventive faculty to translating their research into innovations and patents that benefit society and make a difference in people's lives," said Sanberg. "USF continues to drive economic development, creating and working with our private and public partners to bring economic growth, and jobs for our graduates and citizens to Tampa Bay."
This year's awardees: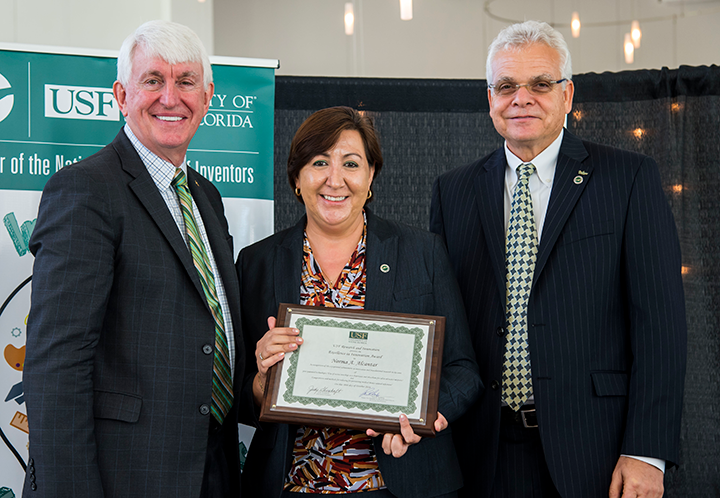 Ralph Wilcox, Norma Alcantar, Paul Sanberg (Photo: Aimee Blodgett).
Norma Alcantar, professor of chemical and biomedical engineering, USF College of Engineering, was recognized for her prolific research and commercialization endeavors, including two patents received in 2015, one of which was for her development of a method using natural materials extracted from a cactus plant as a non-toxic, renewable procedure to purify water. Alcantar has made significant contributions into several fields, including using natural materials extracted from a cactus plant to separate contaminants such as sediments, bacteria and heavy metals in water purification technologies. Her research in the area of dispersants of crude oils has been funded from the Gulf of Mexico Research Initiative and the National Science Foundation since 2010. She has five patents and several applications in process. Alcantar has been very prolific in her research and innovation's endeavors. She currently has seven awarded patents. She also was awarded two awards from the National Science Foundation, one of which is a NSF I-Corps award to extend her research activities to catalyze the translation of her work into commercialization. Her second award from NSF is a collaborative project with SRI International on interpenetrating polymer networks. Alcantar was also awarded a research grant from the Florida Aquaculture Research Council to build a pilot unit that will be implemented in fishing farms to remove off-flavor compounds.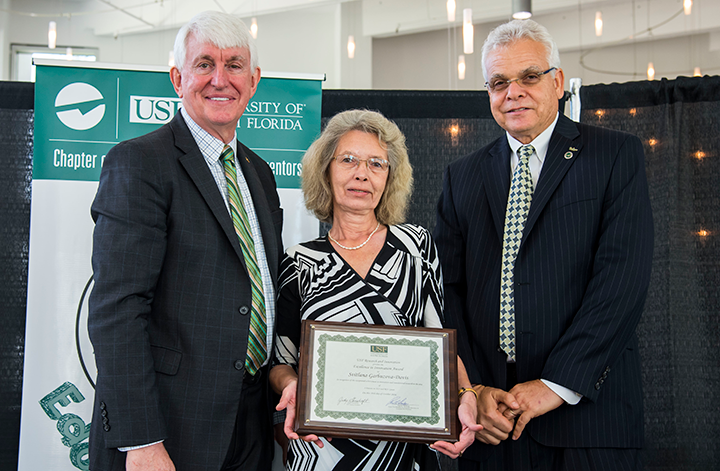 Ralph Wilcox, Svitlana Garbuzova-Davis, Paul Sanberg (Photo: Aimee Blodgett).
Svitlana Garbuzova-Davis, professor of neurosurgery and brain repair, USF Morsani College of Medicine, USF Health, was recognized for her technological accomplishments, awarded grants, and issued patents related to identifying disease-related biomarkers. Her research methods have a potential for wide application in the treatment of various spinal cord pathologies, and will be critical to the early diagnosis and treatment of neurodegenerative disorders, such as ALS. In 2015, she was awarded an RO1 Grant for "Re-Establishing Vascular Integrity in ALS via Endothelial Cell Transplantation", a patent for "Method of prenatal administration of mammalian umbilical cord stem cells for the intrauterine treatment of Sanfilippo syndrome", a provisional Patent for "Plasma Derived from Human Umbilical Cord Blood for the Treatment of Neurodegenerative Disorders", patent disclosure, "Novel Non-invasive Method for Direct Delivery of Therapeutics to the Spinal Cord in the Treatment of Spinal Cord Pathology", and was the senior author of "Humoral factors in ALS patients during disease progression."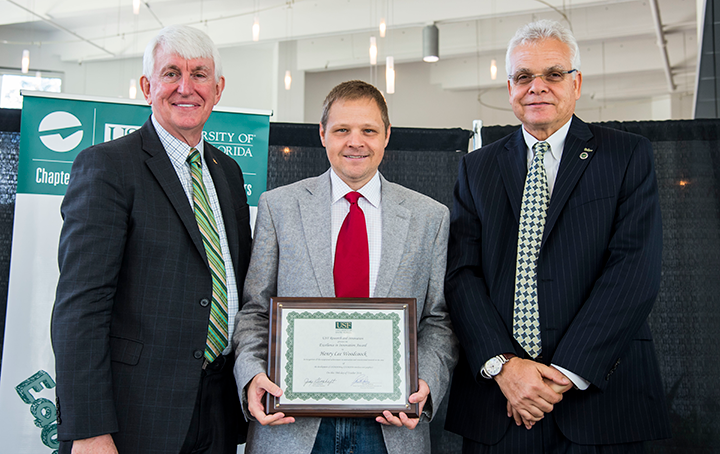 Ralph Wilcox, H. Lee Woodcock, Paul Sanberg (Photo: Aimee Blodgett).
H. Lee Woodcock, Associate Professor, Department of Chemistry, USF College of Arts and Sciences, received the award for his development of CHARMM interface and graphics (CHARMMing). This web-based educational platform introduces students to computer simulations of biological macro-molecules. Woodcock's group has been involved in bringing CHARMMing to the masses. Thus, strengthening the use of molecular simulation software in chemical education is a major goal of the current CHARMMing project. Molecular simulations have been shown to be very instructive, but simulation programs can be intimidating for the new user. Furthermore, many methodologies require large amounts of dedicated computational resources. To assist in overcoming these barriers, the Woodcock group has been developing a Web-­‐based user interface (WUI) for the CHARMMing simulation package. This tool provides a user-­‐friendly interface for the preparation, submission, monitoring, and visualization of molecular simulations and recently, his group has implemented web‐based "lessons" into CHARMMing with the main goal of enhancing computational pedagogy; particularly useful to institutions that lack dedicated computational facilities. These lessons can be described as interactive step‐by‐step instructions for performing common molecular simulation tasks. In addition to CHARMMing's new lessons functionality, web‐based graphical capabilities have been overhauled and are fully compatible with modern mobile Web browsers (e.g., phones and tablets), allowing easy integration of these advanced simulation techniques into coursework.
##
The University of South Florida is a high-impact, global research university dedicated to student success. USF is a Top 25 research university among public institutions nationwide in total research expenditures, according to the National Science Foundation. Serving over 48,000 students, the USF System has an annual budget of $1.6 billion and an annual economic impact of $4.4 billion. USF is a member of the American Athletic Conference.
Media Contact: Judy Lowry, jhlowry@usf.edu, 813-974-3181