The American Institute for Medical and Biological Engineering recognizes the nation's top medical and biological engineers
TAMPA, Fla. (Feb. 1, 2017) – Three University of South Florida professors have been elected to the 2017 College of Fellows of the American Institute for Medical and Biological Engineering (AIMBE): Paula Bickford, a professor at the USF Morsani College of Medicine, USF Health; and Venkat R. Bhethanabotla and Dimitri Goldgof, professors from the USF College of Engineering.
"These three members of our faculty have earned the recognition of their peers through their superb accomplishments and by setting the standard for excellence in their respective disciplines," said Paul R. Sanberg, USF senior vice president for research, innovation and economic development. "Their impressive talents as scientists and innovators are only matched by their deep dedication to their students and colleagues. We are very proud of their achievement and share in their celebration."
The AIMBE College of Fellows is composed of the top two percent of medical and biological engineers in the country, and includes distinguished scientists and researchers, clinicians, engineering and medical school chairs, research directors, professors, innovators, and successful entrepreneurs. Fellows are regularly recognized for their substantial contributions in teaching, research, and innovation. AIMBE Fellows have been awarded the Presidential Medal of Science and the Presidential Medal of Technology and Innovation and many also are members of the National Academies of Sciences, Engineering, and Medicine. The new Fellows were nominated, reviewed, and elected by peers and members of the College of Fellows.
The formal induction ceremony for the AIMBE Class of 2017 will occur at AIMBE's meeting, March 19-20, 2017 in Washington. More information can be found at http://annualevent.aimbe.org/.
The USF inductees are: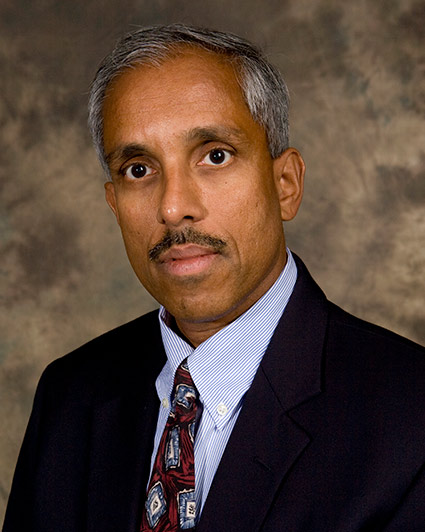 Venkat R. Bhethanabotla, Ph.D.
For outstanding contributions and leadership in chemical and biomedical engineering, particularly for the development of acoustic wave biological sensors.
Dr. Bhethanabotla is a professor in the USF Department of Chemical & Biomedical Engineering in the College of Engineering, and director of the Materials Science and Engineering Program. Bhethanabotla's fundamental and applied scientific contributions combine computational materials science with experimental results to establish the value of modeling for systems of practical utility. In the area of detecting light gases, hydrogen, in particular, he created a combined computational and experimental development of sensing layers for a surface acoustic wave sensor platform. He utilized modeling and experiment to demonstrate surface acoustic waves can both sense proteins and remove non-specifically bound proteins within the same device. This discovery can revolutionize point-of-care diagnostics. He also developed a visible light stimulation mechanism for electrically active biological cells such as neurons and cardiomyocytes, expected to revolutionize the field of neural prosthetics (such as cochlear implants) by allowing unprecedented specificity. He has made several other important contributions in materials development, notably for hydrogen storage and catalysis. He holds 11 patents, one licensed; has published more than 100 journal articles; and led nearly 60 grants from National Science Foundation (NSF), Department of Energy (DOE), NASA, etc. He holds leadership roles in national professional societies, including the American Association for the Advance of Science (AAAS), and serves as a spokesperson for biological engineering within the profession.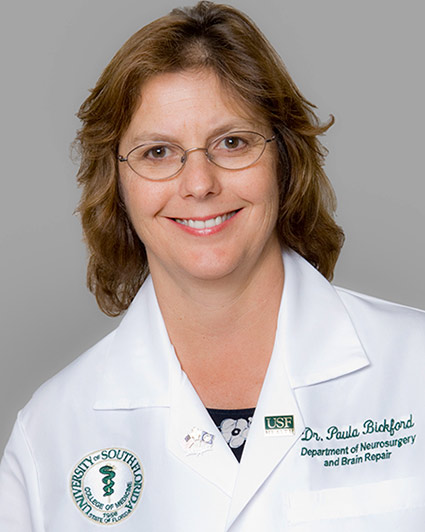 Paula Bickford, Ph.D.
For distinguished contributions in aging research, particularly as a leader in nutritional neuroscience and innate immune mechanisms in neurodegenerative diseases.
Dr. Bickford is concurrently professor of neurosurgery and brain repair in the Center of Excellence for Aging and Brain Repair—one of the leading centers of its kind in the nation—and senior research career scientist at James A. Haley Veterans Hospital. She has dedicated her career to the study of aging and the role of inflammation and oxidative stress, and is one of the world's foremost investigators in nutritional neuroscience and the innate immune system. Her research has made significant contributions to understanding how changes in cellular function impact cognition and resilience to neurodegenerative diseases and brain injuries with age. She was among the first to systematically analyze the role of CX3CL1 with targeted gene therapy for various naturally occurring forms of CX3CL1. She has also demonstrated the importance of foods that counteract innate immune changes with aging, such as spinach and blueberries, and investigated mechanisms for these effects at the cellular level. Her research revealed it may be possible to develop therapeutics that target stem cell aging to increase lifespan or to improve health. Bickford also served the scientific community as president of the American Society for Neural Therapy and Repair (ASNTR) and American Aging Association, Board of Directors of AGE, and numerous peer review committees and editorial boards. She is a Fellow of AAAS, and a member of Faculty 1000. She led dozens of grants totaling millions of dollars, has published nearly 200 articles/chapters (h-index 55), and holds seven patents.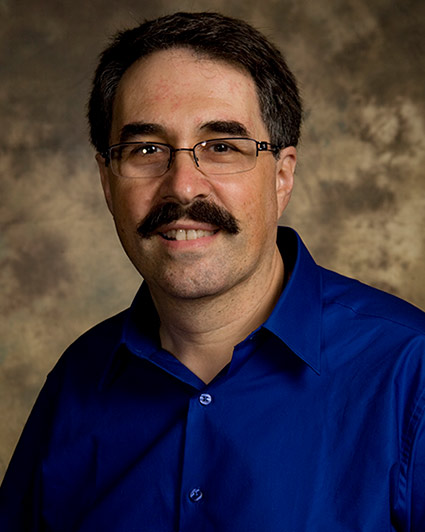 Dmitry B. Goldgof, Ph.D.
For distinguished contributions to the fields of computer vision, pattern recognition and biomedical applications, particularly in biomedical image analysis.
Dr. Dmitry B. Goldgof is a professor in the USF Department of Computer Science & Engineering in the College of Engineering, and the Department of Oncological Sciences in the Morsani College of Medicine, USF Health, and a member of the H. Lee Moffitt Cancer Center and Research Institute. His expertise spans the research areas of computer vision, image analysis, and pattern recognition, with an emphasis in biomedical applications. More specifically, his research interests are related to two broad thrusts: the first is in the area of biomedical image analysis and machine learning with application to MR, CT, PET and microscopy images, radiomics and bioinformatics; the second is in the area of video analysis with biometrics, face analysis and surveillance applications. He holds five patents and has published five edited volumes, 20 book chapters, and more than 90 journal and 200 conference articles (with high citations impact, h=45, g=83). Goldgof has graduated 24 doctoral and 44 master's students. He is a fellow of AAAS, the Institute of Electrical and Electronics Engineers (IEEE), and the International Association for Pattern Recognition (IAPR); and a member of the International Society for Optics and Photonics (SPIE).
AIMBE's mission is to recognize excellence in, and advocate for, the fields of medical and biological engineering in order to advance society. Since 1991, AIMBE's College of Fellows has led the way for technological growth and advancement in the fields of medical and biological engineering. Fellows have helped revolutionize medicine and related fields in order to enhance and extend the lives of people all over the world. They have also successfully advocated for public policies that have enabled researchers and business?makers to further the interests of engineers, teachers, scientists, clinical practitioners, and ultimately, patients.
##
The University of South Florida is a high-impact, global research university dedicated to student success. USF is a Top 25 research university among public institutions nationwide in total research expenditures, according to the National Science Foundation. Serving over 48,000 students, the USF System has an annual budget of $1.6 billion and an annual economic impact of $4.4 billion. USF is a member of the American Athletic Conference.
American Institute for Medical and Biological Engineering:
www.aimbe.org.
Providing leadership & advocacy in medical and biological engineering for the benefit of society.
-USF-