Biosafety Program
Mission and Purpose:
The University of South Florida's (USF) Biosafety Program and the USF Institutional Biosafety Committee (IBC) is committed to incorporating health and safety practices governing all personnel working with biohazardous materials in research and/or teaching activities at USF and its affiliated institutions.
The USF Biosafety Program oversees the possession, use and storage of various Infectious Agents, and Recombinant Deoxyribonucleic Acid (rDNA), biological toxins, and Select Agents/Toxins, commonly known as biohazardous materials, in a research and/or teaching environment. Accordingly the university has established an IBC for oversight and evaluation of the research and its laboratories that use biohazardous materials at USF and affiliated institutions  to ensure that they are in compliance with USF University Policy #0-311

, the guidance document Biosafety in Microbiological and Biomedical Laboratories (BMBL) 5th Edition, and the NIH Guidelines published by the Centers for Disease Control and Prevention (CDC) and the National Institutes of Health (NIH), USF IBC policy

, and 42 CFR 73, 9 CFR 121, and 7 CFR 331 for Select Agents.
The mission of USF's biosafety program is to promote safe biosafety practices for all staff, students and researchers at the USF and its affiliated institution. The purpose is minimizing the risk of potential occupational exposure to biohazardous materials in research and teaching environments; preventing the release of such materials into the environment and complying with all federal and state regulations. The biosafety program accomplishes its mission through the review of research projects involving the use of biohazardous materials; by providing Biosafety training; conducting Biosafety lab inspections; providing occupational health and preventative health services; educating and training the membership in the most current practices; providing guidance to USF faculty and staff researchers regarding use, storage and transfer of biohazardous agents, and by providing compliance oversight.
Principal Investigators (PI) at USF who possess or plan to possess, store, work with, or transport infectious agent(s), biological toxin(s), Select Agent(s)/Toxin(s), and/or recombinant or synthetic nucleic acid molecules must register the infectious agent(s), biological toxin(s), Select Agent(s)/Toxin(s), and/or recombinant or synthetic nucleic acid molecules with the USF Institutional Biosafety Committee (IBC).
Scope:
All research and teaching activities involving biohazardous material, conducted at USF or its affiliated institutions, by USF faculty and staff must be conducted in accordance with the federal regulations/guidance and USF Institutional IBC policies. Research Integrity & Compliance provides the IBC with administrative support services and assists the IBC with its functions of oversight and evaluation of the Biosafety Program.
For Additional Information:
For additional information, please contact IBC program support staff at biosafety@research.usf.edu.
USF is dedicated to providing a safe, secure, and ethical workplace. This hotline provides an easy, anonymous way to discreetly and confidentially report activities that may involve improper conduct or violations of USF policies.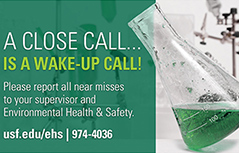 See, experience or hear of something that could have been an incident? Be sure to report it!