Biosafety Forms
RAC Determination Form
Registration Applications
Starting January 1, 2018 all new IBC research protocols MUST be submitted through BiosafetyNet within the ARC platform. We no longer accept any new IBC protocols submitted on paper. IBC applications are now submitted through our electronic format BiosafetyNet. For more information regarding BiosafetyNet see our webpage (http://www.research.usf.edu/dric/biosafety/biosafetynet.asp).
NOTE: IBC protocols that were originally approved on paper prior to December 31, 2017, will continue to use paper submissions for continuing reviews and amendments.
Modifications
Lab Audits
Decontamination Forms
Additional Forms
Volunteer Forms/Information
USF is dedicated to providing a safe, secure, and ethical workplace. This hotline provides an easy, anonymous way to discreetly and confidentially report activities that may involve improper conduct or violations of USF policies.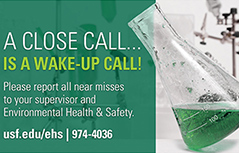 See, experience or hear of something that could have been an incident? Be sure to report it!