Puff-N-Fluff creator Marissa Streng demonstrated her invention on NBC Wednesday night
By Lauren Golin
USF Research News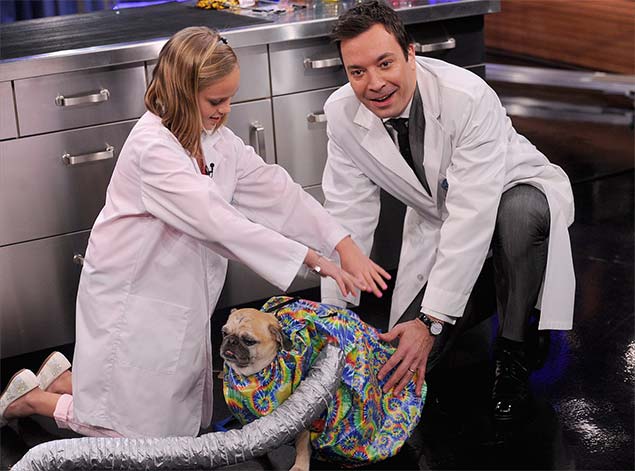 Marissa Streng and Jimmy Fallon on the Tonight Show starring Jimmy Fallon, which aired Wed. Feb. 19, 2014 (Photo: Getty Images)
TAMPA, Fla. – Marissa Streng, inventor of the patented Puff-N-Fluff, was a featured guest on NBC's Tonight Show starring Jimmy Fallon on Wed., Feb. 19, 2014. Streng, the 2011 USF Young Innovator Competition grand prize winner, created the dog drying invention while she was in the third grade.
Streng and two other young inventors who were not from the USF competition were featured in a segment called "Tonight Show Fallonventions." Streng, with help from Fallon, demonstrated the Puff-N-Fluff dog drying system on her dog, Mojo. At the end of the segment, Fallon surprised each of the young inventors with a check for $5,000, courtesy of sponsor GE.
Streng came up with the unique drying system after bathing her dog and attempting to towel dry him, only to find that he was still soaking wet. The Puff-N-Fluff, which can be used by pet owners and groomers, gently circulates warm air around the dog and is easy to use, dries dogs in minutes, and eliminates damp pet odors.
The Puff-N-Fluff dog dryer is made by using a rectangular piece of material with four elastic leg holes. The paws are placed through the openings, and then the sides are brought together and fastened by a hook and loop. Draw strings close the gap around the dog's head and tail. A blow dryer is then attached to the flex-hose to circulate warm air around the dog's body.
The USF Young Innovator Competition was designed by contest founder and intellectual property attorney Anton Hopen "to promote innovation and creativity in young people by motivating them to solve problems and improve upon the things around them. In doing so, children discover why education gives them increasingly more powerful tools and resources to solve bigger problems and challenges."
The annual competition is open to K-12 students in the Tampa Bay region. Members of the USF Chapter of the National Academy of Inventors select 10 finalists from among the more than 500 entries each year. The finalist compete every year on Feb. 11 (Thomas Edison's birthday) at the University of South Florida in Tampa.
The Puff-N-Fluff has been featured in both print and video media and is sold through the company website.
Fallonventions segment on the Tonight Show starring Jimmy Fallon
Fallonvention profile of Marissa Streng
Lauren Golin can be reached at lgolin@usf.edu