Biosafety Education and Training
Persons Required to Complete Training
Training in proper microbiological techniques is required for anyone working with recombinant DNA, infectious agents, select agents, and biological toxins or who works in a laboratory where these materials are used/stored.
The assurance of proper training is the responsibility of the Principal Investigator (PI) or laboratory supervisor of the facility in which the hazard is used. We recommend that the PI/Lab Supervisor supplement the training courses by conducting practical demonstrations and assessments of competence in the laboratory.
---
Training Requirements
There are three types of Biosafety training requirements:
---
Courses Offered
Core Course
Completion of any one of these web-based courses will meet the annual continuing education (CE) requirement for those who have completed the core course in a previous year. These courses can be accessed worldwide from the Internet. Each takes about 45 minutes to complete. To receive credit, you must register online (click respective links below). If you need a CD version of the course, contact the Biosafety Office by email at biosafety@usf.edu.
NOTE: The web-based courses use a Flash plug-in for the training. You may need to try another browser or update the settings in your browser for Flash.
Another way meet the annual CE requirement is to repeat the live core course (see above).
Please do not register for more than one CE course per year.
CITI Biosafety and Biosecurity (BSS) Series
CITI Biosafety and Biosecurity series consists of modules that cover a variety of topics. This CITI modules address basic information for multiple regulations, standards, and guidelines that can be completed to be fulfil the annual refreshers training requirement.
Here is the list of CITI courses for Biosafety and Biosecurity

offered via USF Research Integrity and Compliance. Any of these courses will fulfil the annual refresher training requirement.
Choose the appropriate CITI course, which typically takes approximately 30 - 45 mins for completion. For a more detailed description of registration and training see the CITI registration & training PDF

. After you complete the course, you can look up and print your certificate in the Certificates section below. If you register through the VA, you must send a copy of your certificate to the Biosafety Program office via email at Biosafety@research.usf.edu.
Certificates Find & Print Your Certificates - Certificates are posted within two business days after completion.
Please email at Biosafety@research.usf.edu if you would like additional information.
Special Topics
USF is dedicated to providing a safe, secure, and ethical workplace. This hotline provides an easy, anonymous way to discreetly and confidentially report activities that may involve improper conduct or violations of USF policies.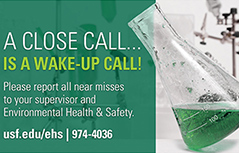 See, experience or hear of something that could have been an incident? Be sure to report it!